There are so many options for picking the best summer hats for men that it might be a little overwhelming. When spending more time outside and participating in outdoor activities, selecting the best headgear is crucial.
Additionally, you want to ensure that the summer hat you choose complements your summer attire and fits your lifestyle.
The Top 8 Summer Hats That Guys Can't Live Without Are Listed Below.
1. Bucket Hat
One of the men's most famous hat designs is the bucket hat, which is often associated with fly-fishing dads, Gilligan's Island, or older versions of LL Cool J and Jay Z. If you have Columbia and Patagonia in your closet, the bucket hat is for you.
The bucket is defined by its loose fit and long brims that mimic the Boonie hat's stronger brim. It is typically constructed of polyester mixes, cotton, or canvas. Bucket hats are among the most extraordinary sun protection hats since they shield your face from the sun's damaging rays and your ears, a portion of your body that is sometimes neglected.
2. Baseball Cap
Nothing is distinctly American than wearing a baseball cap with your favorite t-shirt and pair of denim. But did you know that the first baseball caps were created from a straw? The New York Knickerbockers initially wore the invention in 1849, and ever since then, it has become a fashion staple for all age groups.
Baseball caps look fantastic in cotton materials, but if you want to improve your appearance, try something more upscale like leather or suede.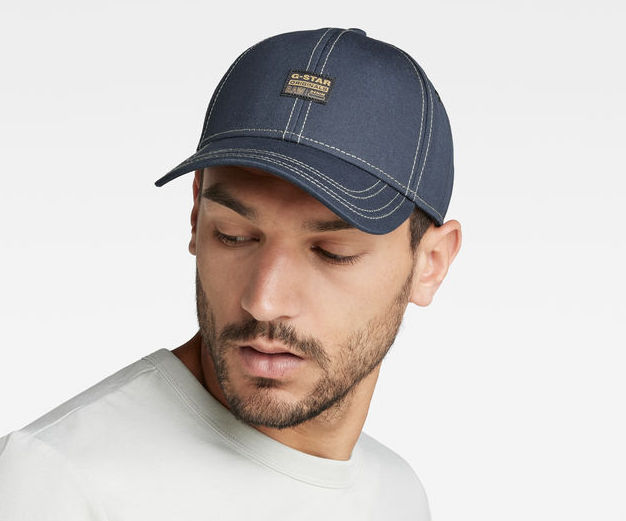 3. Broad brim hat
You want to keep a casual image while appearing like you just stepped out of a men's fashion magazine, right? You'll need a hat with a big brim to pull it off, naturally, along with a healthy amount of confidence.
The trick is to pick a wide brim hat that doesn't look costumey and instead feels like you. (Learn from Pharrell and his notoriety for wearing the Grammy hat. Even he had to endure a barrage of jeers about his oversized chapeau.)
If you're looking for something simple yet attractive, this hand-crocheted gambler hat from Scala is a lovely place to start. You'll simultaneously look good and be sun-protected.
4. Panama Hat
With a stylish Panama hat, you may escape the tropics even if you're in the city's center. The ideal complement to that linen suit you've been waiting all year to wear is a lightweight, breathable Panama. You'll possess timeless charisma like Gregory Peck, Brad Pitt, Robert Redford, Paul Newman, Sir Anthony Hopkins, and Prince Charles.
Remember not to be misled by the name; Panama hats are still produced in Ecuador. With its wide brim and vented crown, this hand-woven Panama straw hat from Scala is a surefire winner. This classic summer hat for men is equally at home at a posh outdoor wedding as it is on a leisurely day by the pool.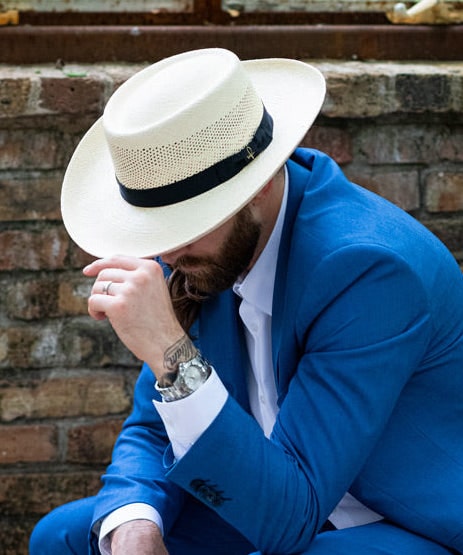 5. Fedora Hat
The fedora, available in black or white, can be worn formally or informally during the summer or the fall (or anything in between). The indented crown and soft brim of this classic chapeau, along with memories of Humphrey Bogart, Frank Sinatra, and Indiana Jones, evoke a bygone era.
As long as you pick the proper material, fedoras can be worn in the summer, even though they are typically thought to be best for the colder months. Get yourself a high-quality poly braid or straw fedora, like this one from Scala, with a sweatband and striped ribbon band that will keep you looking (and feeling) cool all summer.
6. Flat Cap Hat
A flat cap can be used to describe a variety of men's hat designs, such as newsboy, ivy, and duckbill types. Flat hats are rounded or flattish caps with a small, rigid brim up front.
This one is the most straightforward and coziest hat to wear when the heat is on, and you don't feel like doing your hair, even though it won't offer much sun protection. Consider wearing this polished, used cotton brown flat cap with any outfit, day or night, manufactured by Stetson.
7. Pork Pie Hat
The pork pie hat, a longtime favorite of jazz musicians, is included on the list as a top summer choice for its unique and entertaining look.
This narrow-brimmed round topper, known as a "stingy brim hat" for a reason, is the smaller cousin to the larger, more severe fedora. Both dress it up with a light seersucker suit and down with a short-sleeve polo shirt, and cargo shorts look excellent. If you want something colorful but versatile, go beyond this braided hemp pork pie hat by Biltmore.
8. Straw Hat
Straw hats are a summertime necessity, whether you're trekking in nature, lounging on the beach, or taking a cross-country road trip. Whether bald or having a lot of hair, it's a perfect sun hat that enables fantastic air flow because it's lightweight, strong, and available in various styles.
These sun-protective straw hats also offer protection from UV rays, and adding a chin cord to one of them adds even more stability. Take advantage of the long summer days by donning your hand-crocheted straw outback hat.
A hat is a head covering worn for various reasons, such as protection from the elements and harmful ultraviolet rays during summer. It can be used as a piece of fashion and style because of the variety of shapes and materials. The best summer hats, which are cool to wear in the summer, are those that are stated above.
To ask any questions related to the rights of NRIs, PIOs, and OCIs, you can download SBNRI App from the Google Play Store or App Store. You can also use the SBNRI app for investment in stock market/ mutual funds, NRI account opening, tax filing, etc. To ask any questions, click on the button below. Also, visit our blog for more details. 
FAQs
Which is the best summer cap for men?
The above eight caps are the best summer cap for men.

Are these caps comfortable to wear?
Yes, these caps are very comfortable to wear during the summer season.

Which type of hat helps you stay calm?
Wide-brimmed hats provide you with immediate shade, which is guaranteed to make you feel more at ease than being in the sun all day.