In recent years, adventure sports have become substantially popular, particularly among visitors who view their vacations as more than just fun and relaxation. Hence, many locations in the United States also offer a variety of Adventure Air Sports like Skydiving, Paragliding, Bungee Jumping and a lot more. Adventure Air sports is the favorite method for all the adrenaline junkies to satisfy their cravings for more thrill in life. Here is a list of adventure air sports in the USA that you must try if life-changing experiences, celebrating victories and thrill is the feeling that you look for.
Adventure Air Sports in the USA
1. Skydiving
If you ask someone about their bucket list then jumping out of a plane could be found on top of it. Skydiving is considered as the most famous air adventure sport with its tremendous benefits whirling a one-time experience for many adventure enthusiasts out there. The moment when you first catch a breath-taking view of mountains, glistening waters, or even green planes while a free fall from a height of 15,000 feet, you experience an enormous rush of excitement.
You can find Skydiving in Waialua (Hawaii), Poconos Mountains (Pennsylvania), Zion National Park (Utah), Monterey (California), and Key West (Florida).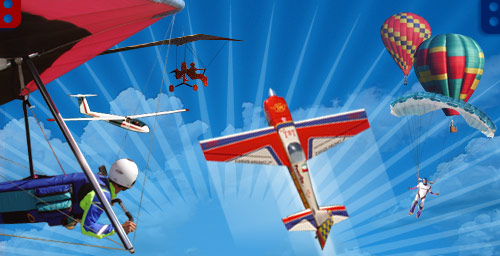 2. Bungee Jumping
Bungee Jumping is a popular extreme activity that provides a chance to experience flying by jumping from tall structures, especially bridges with a web of elastic cords tied along your body. It has become increasingly popular all around the United States, with jumpers attempting everything from bridge leaps and enormous cranes to mega dams and big rocks. The USA itself houses some great picturesque spots from where Bungee jumping could give you a stunning, thrilling, and adventurous experience.
You can find Bungee Jumping in High Steel Bridge (Washington), Royal Gorge Suspension Bridge (Colorado), Redwood Trees (California), and Navajo Bridge (Arizona).
3. Paragliding
If you love seeing the ground below while flying in an airplane, you might also enjoy paragliding. Paragliding is often considered a safe air adventure sport, as long as you fly with a qualified and experienced pilot. This sport allows you to break bonds of gravity and soar to heights reserved for birds and angles. In short, Paragliding is a combining experience of a helicopter ride, airplane flight, and skydiving allowing you to capture the exhilarating sightseeing.
You can find Paragliding in Owens Valley (California), Haleakala (Hawaii), Mingus Mountain (Arizona), and Lookout Mountain (Georgia).
4. Ballooning
This sport is a bit gentle on your adrenaline rush, but liberating to your senses. Ballooning as a sport allows you to appreciate the scenic beauty of the landscape in front of you while you fly in a hot-air balloon. With ballooning companies running sunrise and sunset tours prominently, it becomes an enchanting & exciting way to explore new places for all sorts of tourists. The sheer perspective from that great height is so unique that you'll feel a sense of calmness as the wind will blow easily through your ears. Though the ballooning rides can be costly, the experience is usually worth the price.
You can find Ballooning in Monument Valley (Utah), Napa Valley (California), Letchworth State Park (New York), Grand Canyon (Arizona), and Lake Geneva (Wisconsin).
5. Hang Gliding
Popular and simple to learn, hang gliding is an air adventure sport where the participant flies a hang glider, a non-motorized device. Hang glider pilots can launch from wind-facing slopes, winches on flat ground, or from an airfield while being lifted aloft by a microlight aircraft. For many, the objective is to travel enormous distances while remaining airborne in air currents that are lifting them. This sport can be tried all year long, from magnificent slopes to coastal regions.
You can find Hang gliding in La Jolla (California), Sun Valley (Idaho), Kahului (Hawaii), San Francisco (California), and Salt Lake City (Utah).
6. Ziplining
You can witness and zoom above the treetops or rocky mountains to enjoy stellar views during this fun air adventure sport. Here, you can ride through long steel cables as fast as 60 mph while you shoot across the valley. It's a great sport where you glide through a stainless-steel cable with pulley and bunch of safety belts tied across your waist as you experience the magic of gravity at your disposal. For beginners this sport is considered to be a stepping stone in order to overcome height phobia, making it a must-try!
You can find Ziplining in- Camelback Mountain (Pennsylvania), Hilo (Hawaii), Salida (Colorado), Idaho Springs (Colorado), and Hunter Canopy (New York).
7. Paramotoring
Paramotoring is one of the most famous aero sports that has picked up in the last 15 years. It is also known as powered paragliding and comprises a frame that combines a lightweight 2-stroke motor with a pushed prop attached to your back. Here, the aircraft is worn like a rucksack on your back with padded shoulder straps. Then you have to just buckle up, start the engine, launch the glider and then run in the wind's direction gunning down in full throttle until your feet leave the ground. Initially, it might feel shaky and scary, but soon it will become a calming experience for you and the moment you touch back on the ground you will feel like your childhood fantasy to fly like a child came to life.
You can find Paramotoring in Owens Valley (California), Sun Valley (Idaho), Haleakala (Hawaii), and Salt Lake City (Utah).
If you are a true believer in 'You Only Live Once', then take all your courage and land at a place that offers such types of air adventure activities. You can easily find these activities around various tourist spots across the United States of America. So, live to the fullest and enjoy your next getaway.
NRIs and OCIs living in the USA can ask any questions related to India. You can download SBNRI App from the Google Play Store or App Store to get in touch with us. You can also use the SBNRI app for investment in stock market/ mutual funds, NRI account opening, tax filing, etc. To ask any questions, click on the button below. Also, visit our blog and YouTube channel for more details.
FAQs
 How much time does it take to train in any of these sports? 
See, it depends on the sport itself. Some sport training can be for a  few hours, others might take a day-or-two for you to learn its nuances.  
Is it compulsory to hire a trainer/ instructor for this sport? 
Yes, until you are not an expert in this. Because for most people these adventure sports are weekend activities. So, if you're one of such fellas then you must definitely go for hiring an efficient instructor/ trainer. Also, at last, it's for your and others' safety.
Is there any single place in the USA, where all of these air adventure sports can be enjoyed? 
Hawaii, California, and Florida are the most prominent destinations to find the most thrilling air adventure sports. So, be ready to pack your bags, gather your courage and try these sports at these locations next.