A month before the US Presidential Elections, Donald Trump administration announced the interim final rule with a motive to protect American workers restricting the H-1B Visas. The highlight of the new rules are as follows:
Tightening the current regulations proposed by Department of Homeland Security (DHS) (to come into effect 60 days after publishing in the Federal Register)
New wage rules for the skilled immigration visa, proposed by the Department of Labor. (to come into effect from Thursday, right after publishing)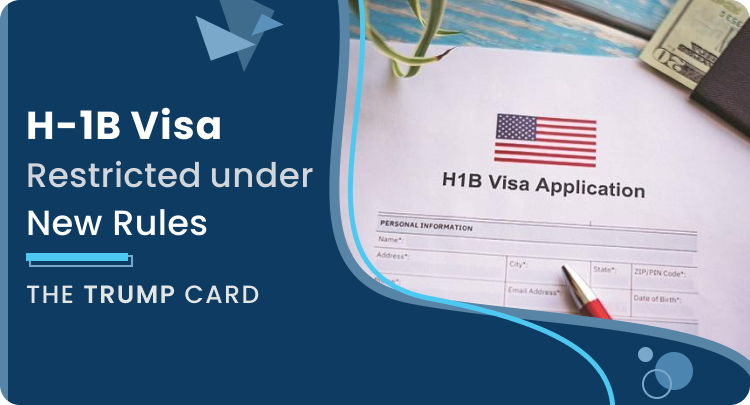 With effect, these rules will primarily change these basic elements:
The definitions of "specialty occupation" and "employer-employee relationship" will be narrowed
New definitions such as "third-party worksite" to be incorporated
H-1B Visa Tenure to be decreased to 1 year from 3 years
Companies will be required to provide additional documentation to prove that they need H-1B workers to prevent them from displacing American workers
DHS's power to enforce compliance would be enhanced through worksite inspection and monitor compliance before, during and after H-1B petitions are approved.
The minimum wage levels of H-1B workers are likely to change
H-1B Visa Restriction: Analysis
The restriction on the H-1B Visa comes in the wake of protecting American workers. According to DHS, H-1B was used by companies to displace close to half a million American workers. "This has led to reduced wages in a number of industries in the U.S. labor market and the stagnation of wages in certain occupations. These latest efforts on H-1B visas are part of a larger Trump Administration goal to protect American workers."
The new rule aims at ensuring that the employment of H-1B workers will not worsen the COVID-19 inflicted economic crisis and adversely affect the wages and working conditions of similarly employed American workers.
"The pandemic's economic impact is an "obvious and compelling fact" that justifies good cause to issue this IFR," the statement added.
However, the views are divided. Many are expressing their concerns over this interim final rule (IFR) "This is not a minor increase in wages. They're fairly substantial and could be a serious deterrence. However, the rule has been so poorly crafted and rolled out that it almost seems like the agency wanted to please their extremist political constituencies and didn't care if it would survive litigation," said Greg Siskind, founding partner, Siskind Susser, PC- Immigration Lawyers.
Acting Deputy DHS Secretary Ken Cuccinelli told reporters that about one-third of the people who had applied for H1-B visas in recent years would be denied under the new rules, which will also limit the number of specialty occupations available under the programme.
Special waiver to pass the H-1B Visa rules early
The Department of Home Security and Department of Labor had proposed two regulations in september:
Restructuring of wage levels of the highly-skilled workforce (including H-1B)
Strengthening the H-1B Non-immigrant Visa
As per the protocol, these were submitted to the Office of Management and Budget (OMB) for review under the interim final rule stage with a 90 day period for the review but on September 30th, both of these rules were withdrawn. Immigration experts suggest that the administration was looking at using a special waiver of the review step to fasten the roll-out. This simply means that the review was being skipped.
The US Citizenship and Immigration Services will forgo the regular notice and comment period, the department of homeland security (DHS) said in a statement.
We will update you with the latest news as soon as it unfolds. Meanwhile, if you need expert advisory concerning NRI Banking, Remittance, Investment or any other query, contact our experts using the button below. Also, visit our blog and youtube channel for more details.