France intends to have 20,000 Indian students study in the country by 2025. This is to mark the beginning of innovation, start-ups, new business and collaboration between India and France. President Modi and President Emmanuel Macron recently met at the Elysee Palace in France to discuss these topics.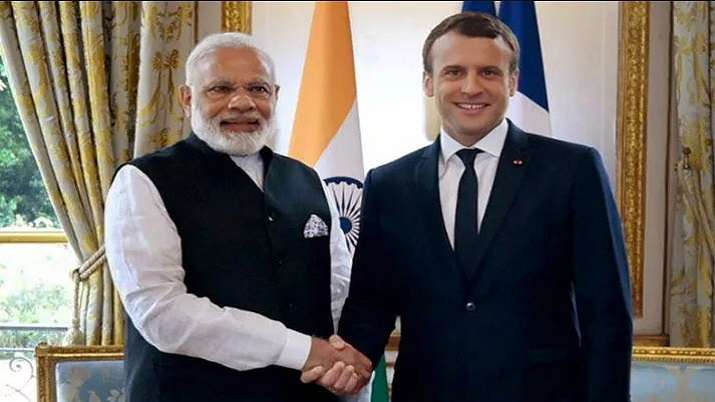 According to Statista "Taking a closer look at the numbers, the most represented age group of Indians in France were aged 25 to 54 years. There were around 3,100 thousand Indian children in France and more than 2,500 15 to 24 year olds in 2017. "
A statement made about the meeting mentioned the discussion of collaborative increase of the mobility of the students, professionals and skilled workers. It also mentioned a renewed effort to curtail irregular migration across borders of the both countries.
The statement made writes that "Recognising the benefit of bilateral student mobility, France maintains the objective of 20,000 Indian students by 2025 which will create opportunities for new businesses, start-ups and innovation between the two countries,"
2019 saw 10,000 Indian students decide to enroll in higher studies in France. Indian students were supported and assisted through COVID in 2020 and 2021 according to information from the French embassy website in New Delhi.
Both countries entered a Partnership Agreement on migration and mobility on October 1, 2021 and entirely committed to implementing it.
This agreement focuses on temporary circular migration based on mobility and the emphasis on returning skills to the home country.
Prime Minister Mody has been on a 3-nation tour. Paris with French President Macron was the last meeting of this tour. Germany and Denmark were the other two countries in the tour. The meetings focuses on energy, trade and green technology.
According to the MEA, India and France have also been looking to improve cooperation in the indo-Pacific. This includes the India – France – Australia trilateral mechanism to jointly respond to challenges in the space and protect climate action and biodiversity.
The following are Indo – French Collaborations:
Joint Research Units between the French Ministry of Foreign Affairs and CNRS (UMIFRE)
The Centre for Social Sciences and Humanities (CSH)
The French Institute of Pondicherry (IFP)
International research Laboratory (IRL)
Indo French Centre for Applied Mathematics (IFCAM)
Indo French Research Laboratory in Computer Science (RELAX)
International Research Program (IRP)
Functionalized Materials for Sustainable Catalytic and Related Applications (MATSUCAT)
Impact and regulation of Calcium signaling in Drosophila immune cells (CALIM)
The Social Pofile of Indian's National and Provincial Elected (1919-2019) (SPINPER)
Indian-French Laboratory of Solid State Chemistry (LAFICS 2)
Indo-French Program in Mathematics (IFPM)
Indo-French Joint Laboratory for Natural Products and Synthetic for Affordable Health (NPSAH)
French -Indian Associated Laboratory for Nuclear Sciences (FI-NS)
Systems Biology of Tissue Mechanics (SYSTIM)
Next-Generation (Macro)-Molecular Self-Assembled Systems (Next Gen Assembly
Cellule Franco-Indienne de Recherche en Sciences de l'Eau (CEFIRSE)
Joint doctoral program CNRS / IISER Pune
Within the framework of a joint doctoral program between CNRS and IISER Pune, the two following projects have been selected:
Constrained quantum systems (discipline: physics)
Understanding the mechanobiological basis of the evolutionary diversity in spindles dynamics of nematodes (discipline: biolog
IFCPAR/CEPIFRA is the Indo – French center for the promotion of advanced research
The Indo-French Centre for the Promotion of Advanced Research (IFCPAR/CEFIPRA), is anl organisation made by Government of India and Government of France. It is an example for international collaborative research in of Science &Technology. The Centre was set up in 1987 and is supported by Department of Science & Technology, Government of India and the Ministry for Europe & Foreign Affairs, Government of France .
Address:
Indo-French Centre for the Promotion of Advanced Research (IFCPAR/CEFIPRA)
5B, Ground Floor,
India Habitat Centre, Lodhi Road,
New Delhi – 110003
India
Mail ID – [email protected]
PBAX lines: (+91-11) 2468 2251 /2468 2252
(Entry from Gate No.2)
To ask any questions related to the rights of NRIs, PIOs, and OCIs, you can download SBNRI App from the Google Play Store or App Store. You can also use the SBNRI app for investment in stock market/ mutual funds, NRI account opening, tax filing, etc. To ask any questions, click on the button below. Also, visit our blog and YouTube channel for more details.
FAQs
How many students are to study in France according to the recent meeting between Prime Minister Modi and President Macron?
20,000 Indian students are to study in France by 2025 

How many Indian students enrolled in higher studies in France in 2019?
10,000 Indian students enrolled in higher studies in France in 2019.
Who is the French President?
Emmanuel Macron.
When did india and France enter into a partnership on migration and mobility ?
Both countries entered a Partnership Agreement on migration and mobility on October 1, 2021.