The beautiful outdoors on a hiking trail is the best place to distance yourself socially for some soul searching. We often have busy schedules, so taking a trek in a national park, or local reserve can be highly therapeutic for the spirit. These hikes will take you past towering trees and serene lakes, with undoubtedly the best locations that we have listed here for you, as all of them have breathtaking views, bubbling rocks, mountain vistas, and long pine trees as well. Some will also get you close and personal with animals and other creatures, such as herons and marine turtles. And whether you're a beginner or an experienced hiker (or if you're looking for camping ideas), there's something for you here. So, let's explore the exciting places to trek in America.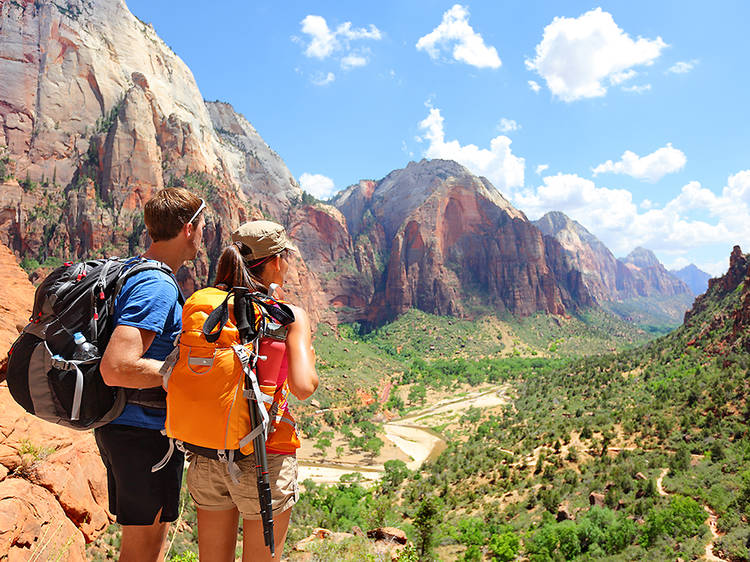 Places to trek in America
Following are some of the best places to trek in America:
Dosewallips to Lake Quinault in Olympic National Park, Washington
A 30-mile walk with gorgeous temperate rainforests and wildflower strew alpine meadows in the wildlife-rich southern part of the park. Although some specific portions of the Olympic Park require a permit for night camping, this place is incredible for day-hiking.
Rim Rim trails in Grand Canyon National Park, Arizona
As the name suggests, this route takes from one rim to another, allowing you to explore the colorful layers of the rocks in the landscape. Watching sunsets, and dark starry skies during the night camping is the showstopper at this great location. Every piece of the trail comes with stunning views, with Maricopa Point giving you the ultimate wilderness but still feels easy going at the same time.
Mount Washburn in Yellowstone National Park, Wyoming
From this single location, you will be able to witness the grand landscape of Yellowstone Lake along with the Absaroka and Beartooth ranges and even faraway situated Grand Tetons. It covers seven miles of forests which are home to a range of wild flora and fauna like peregrine falcons, elk, mule deer, and bighorn sheep to name a few.
Kekekabic Trail in Boundary Waters Canoe Area Wilderness, Minnesota
This is America's most visited wilderness site and the most protected wildlife landscape. The 1000 miles long route gives you a total of 18 hiking trails along the way. It encompasses 2000 campsites with its boundary. If you're planning to head towards this trail, then you must take 3-5 days to explore this extraordinary place. It's also set to become part of the North Country National Scenic Trail, which ranges from eastern New York to North Dakota.
Angel's Landing Trail in Zion Wilderness, Utah
There are many unique pathways in Zion, but Angels' Landing might be the most renowned. The hike, which is a five miles round trip which can take hours to complete because of the steep heights and high altitudes. But, when you finally reach the summit and cast your weary eyes above gorgeous Zion Canyon, the rewards are quite wonderful. Another fantastic path in this area is the 16-mile Zion Narrows, which follows the Virgin River as it winds through stunning sandstone gorges. The heat in Zion is brutal, so try going for an early Hike.
Lake Tahoe, Nevada
Situated on the boundary of California and Nevada, Lake Tahoe has a spectacular landscape and is considered to be one of the most popular vacation destinations, drawing more than 2 million people annually. This place is widely known for its high granite cliffs, towering mountaintops, and crystal-clear waters that entice tourists. It has miles of hiking trails, and hundreds of picturesque panoramas, and also has some of the best skiing places in North America.
Julia Pfeiffer Burns State Park, Big Sur, California
With a 4800 miles long trail, this one is a local favorite that largely covers an unspoiled environment. This is just apt for decent hiking, and anybody who is looking for unusual photo opportunities. Here, the weather remains calm and soothing throughout the year, but still, people prefer to visit this area between June to October, so they can avoid road closures and some other administrative restrictions.
Anhinga Trail in Everglades National Park, Florida
This trail is one of the shortest and easiest ones with no compromise on spectacular views. It's only a mile round-trip. The place is raised above the marsh teeming with alligators, turtles, herons, Anhinga, egrets, and many birds.
Pacific Crest Trail in Pasayten Wilderness, Washington
If you are looking for a balanced mix of trailing experience then, this is the place for you. It comprises some easy routes that have good decent treks. Here, you can run along the West Coast from Mexico to Canada. The best section of this huge trail is Pasayten, situated at the most northern stretch. However, a great day hike in this wilderness is Buckskin Ridge.
So, for your next active trip, lace up your hiking boots, grab a water bottle, and head on to one of these top hiking trails in the United States of America.
NRIs and OCIs living in the US can ask any questions related to India. You can download SBNRI App from the Google Play Store or App Store to get in touch with us. You can also use the SBNRI app for investment in stock market/ mutual funds, NRI account opening, tax filing, etc. To ask any questions, click on the button below. Also, visit our blog and YouTube channel for more details. 
FAQ
Do I need any special gear for hiking?
No, you don't need anything specific for hiking. But yeah, a good pair of hiking boots, a sleeping bag, and warm clothes will come in handy for you.
What to eat and drink while hiking.
You need an ample amount of energy for hiking. But, consider having light snacks as a heavy tummy can give you motion sickness at the high altitude. Also, carry some chocolates, packed juices, and water with you for the journey.
Is it mandatory to trek with an instructor?
One can explore these places by traveling all by themselves. But, getting an instructor is highly suggested, especially if you are a group of hikers.
What kind of accommodation is provided for camping?
Usually, you will find tents in most of the places. But, at some places, you can also look for homestays and other temporary arrangements made by tour operators.