For NRIs who have it in their minds to own a house in India, major banks such as HDFC, SBI, Axis, Kotak, etc. provide NRI Home Loan facility. In this article, find out the latest interest rates on home loan for NRI in India along with the key benefits, documentation requirements and process of application.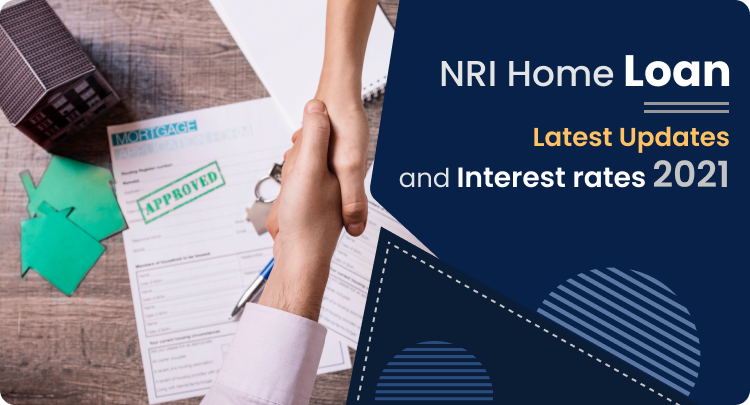 NRI Home Loan Interest Rates
| Bank | Interest Rates up to | Processing Fee |
| --- | --- | --- |
| SBI | 7.85% p.a. | Up to 0.40% of the loan amount |
| HDFC Bank | 7.85% p.a. | Up to 1.25% of the loan amount or₹3,000 whichever is higher+applicable tax |
| ICICI Bank | 8.05% p.a. | 0.5% of the loan amount +applicable Service Tax and Surcharge |
| Axis Bank | 8.55% p.a. | Up to 1% of the loan amountsubject to a minimum of Rs.10,000/- |
| LIC Housing Finance | 8.70% p.a. | As applicable from time to time |
| DHFL Housing Finance | 10% p.a. | Upto Rs. 5,000 + documentcharges + Applicable GST |
| Bank of Baroda | 8.10% p.a. | 1% of loan amount (minimum Rs.7500)with maximum Rs.1,50,000/- |
| Kotak Mahindra Bank | 7.30% p.a. | Nil (floating) & up to 1.25 (Fixed) |
| Indiabulls Housing Finance | 8.80% p.a. | 0.5% to up to Rs. 10,000 |
| Canara Bank | 8.90% p.a. | 0.10% subject to a minimum ofRs. 500 and maximum of Rs. 10,000 |
NRI Home Loan Interest Rates
Note: Interest Rates are subject to change at the discretion of the Bank and/or in accordance with directives from RBI.
Key Features & Benefits of NRI Home Loans
Avail NRI home loans to fulfil various requirements/purposes like purchasing/building a house/property or renovating an old property in India.
Apply for the loan online, from anywhere in the world, and track your loan applications easily.
Get attractive interest rates that you can repay on a monthly basis.
Choose between fixed and floating interest rates.
Part-prepayment facility with zero fees
Simple application process
You can get the estimate of your home loan amount and EMIs by using NRI home loan calculator.
Quick and transparent online processing
No prepayment charges
Facility of repayment of loans in EMIs for longer tenure depending on your finances
Avail all the service from the comfort of your home/office abroad
NRI Home Loan Eligibility
| Criteria | Salaried or Self-Employed |
| --- | --- |
| Work Experience | Min 2 years |
| Age | Min/Max: 18/60 |
| Tenure | Up to 30 years |
| Loan Amount | Depends on borrower's profile |
| Interest Rate | 8.70% onwards |
| Prepayment Charges | (0-2)% |
| Late Payment Charges | (1-3)% |
| Nationality | Indian |
| Type of Resident | Non-Resident Indian (NRI) and Person of Indian Origin (PIO) |
Eligible Profiles
The different profiles that are eligible to apply for housing loans are:
Prerequisite: A resident Indian is required as a co-applicant, co-borrower or co-owner of the property as a part of the home loan application which is to be submitted in case of an NRI.
Age: In case of an NRI, the minimum age requirement is 21 years and the maximum age limit is either 60 years or retirement age, whichever is earlier, at the time of maturity of loan.
Work Experience: A minimum overseas work experience of one year for salaried applicants and two years for self-employed applicants is necessary.
Salary Criteria: All leading banks, NBFCs and housing finance companies have different salary criteria defined for themselves. So initially you can check, compare and choose interest rates offered by various lenders with other eligibility criteria and can further check the income bracket of the desired lender.
NRI Home Loan Documents Required
The following documents are needed to be submitted to the lender for a hassle-free process of obtaining NRI Home Loan:
Full passport and work visa copy
Duly filled loan application form
3 passport size photographs
Employer ID card
Proof of valid work permit
Statement for the last six months of salary account and NRE/NRO account
Current overseas residential proof, e.g. house lease agreement, bank statement, utility bill, card statement, etc.
Copy of employment contract
Salary slips of the past three months
General power of attorney
Last year ITR except for NRIs in Middle East nations and Merchant Navy Employees
Details of previous loan(s), if any
Property papers
Important Points to Keep in Mind when Applying for NRI Home Loan
For self-employed applicants, the maximum tenure is 20 years and 30 years for salaried employees.
We suggest getting the loan approval first and then decide on the property you want to buy.
Worry not if you are investing in an old property. If the property is well maintained, and if the residual age of the property is 12 years, the bank will sanction the loan
How to Apply for NRI Home Loan
Compare and choose amongst the available options provided by several lenders.
Shortlist the best lender, based on your needs and requirements and fill in the application form.
Upload all the necessary documents.
After choosing the right candidate as your co-applicant and joint-owner of the property in India, you will have to issue a power of attorney in his/her name.
Visit the Indian Embassy in your country and collect the power of attorney form in the format of the lender bank/NBFC. A final format has to be signed in favour of the Indian co-applicant in the application. The Indian Embassy will put a seal of approval on it.
For more information regarding NRI Home Loan, you can contact us using the button below and our experts will get back to you. Also visit our blog and Youtube Channel for more queries.
FAQs
Can NRI take home loan in India?
Anyone who comes under the definition of the Foreign Exchange Management Act, 1999 (FEMA) can avail a home loan in India. This means that an NRI home loan can be availed to purchase, construct, renovate a new or existing house. You can also take home loans to purchase a plot of land for residential use.
Which is the best bank for NRI home loan?
Every major bank in India has their own specific pros and cons. You need to compare and contrast between the banks, their interest rates, processing fees, repayment period etc. Contact us using the instant chat feature on our blog to get expert advisory on NRI Home Loan.
Can I get home loan in USA for home in India?
The short answer is yes. In the U.S., private lenders offer personal loans. A personal loan is an unsecured loan that may be used for nearly any purchase, including to buy land in India. … Total Loan Cost – The principal amount plus the interest you pay over the loan term.
Can OCI take loan India?
Yes. Individuals eligible for an NRI Home Loan are:
Non Resident Indian (NRI), Person of Indian origin (PIO), Overseas Citizen of India (OCI), except Citizens of Pakistan, Bangladesh, Sri Lanka, Afghanistan, China, Iran, Nepal, or Bhutan.
How can a NRI buy property in India?
NRIs can buy the "allowed" real estate properties through the following mediums:

1. Self-Transactions by NRIs using:

-Funds in their NRE/NRO/FCNR (B) accounts in India
-Funds remitted to India from overseas (in own account; can't pay to the seller directly)

2. Loan Facility (in INR) in India for NRIs; up to 80% of the property value based on individual eligibility of the NRI than can be repaid through:

-Inward Remittance (money transferred into your own account from abroad)
-Funds in their NRE/NRO/FCNR (Bank) accounts in India
-Rent from the purchased property
-Close Relatives crediting the borrower's loan account (under section 6 of the Companies Act, 1956)

Note: No payments can be made by traveller's cheque (pre-paid, pre-printed fixed amount cheques for payments across countries) or in foreign currency notes. All payments must be made in India only in case of NRI Investments in Real Estate in India.