Axis Bank offers trading and investment services to NRI customers through its subsidiary AxisDirect. AxisDirect is a portal of Axis Securities Limited that offers seamless investment/ trading services to NRI customers. Axis Bank 3-in-1 account is a combination of NRI PIS/ Non-PIS savings account, Demat account and trading account. With Axis Direct 3 in 1 account, NRIs get an integrated account for investment and trading in the Indian market.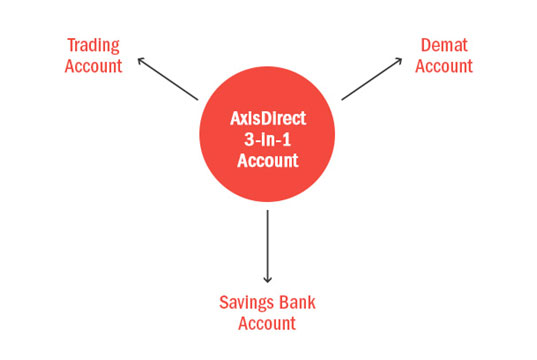 Also Read: PINS Account: NRI Stock Trading in India
The Axis NRI 3 in 1 account enables NRIs to trade online in stock exchanges in India. NRI customers can trade in equity, Equity Derivatives (F&O) and invest in Mutual Fund, Bond, NCD, FD, IPO, ETF using this account. With Axis Bank 3 in 1 account, you can enjoy the convenience to trade online without worrying about settlement cycles, funds transfer from bank account to trading account. The online investment and trading services are offered via Axis Bank's website axisdirect.in.
Note: NRIs living in the USA can't avail online trading services 
Axis NRI 3-in-1 trading account
Axis Bank 3 in 1 investment account offers NRIs multiple online investment options in India under one login ID. With Axis NRI 3 in 1 account, NRIs can easily invest in stock markets and mutual funds in India.
Key features of AxisDirect 3-in-1 trading account
3-in-1 integrated account for fast and convenient trading experience
100% online trading and investment through software and tools
Allows you to invest across stocks, ETFs, equity derivatives, IPOs, NCDs and mutual funds
Trading on phone with call-n-trade option
One-click trade through intelligent order entry panel
Free trading and investment recommendations
Assistance from Relationship Managers
GTC and AMO orders
Axis bank NRI 3-in-1 investment account includes:
Axis NRI PIS/ Non-PIS saving bank account (NRE or NRO)
Axis NRI Demat account
Axis NRI trading account
All these accounts are linked together – for shares bought by an NRI through a trading account, money is withdrawn from the PIS bank account and the shares are credited to the Demat account. After the sale of shares from the Demat account, money is credited into the PIS account.
1. Axis NRI bank account
Axis Bank offers two types of NRI bank accounts – a PIS NRI savings account and a Non-PIS savings account. NRIs can use the PIS account to buy and sell equity stocks in India. Transactions from this account are reported to the RBI.
The Non-PIS account is used for trading in derivatives, investments in mutual funds, ETFs and holding income earned from rent and other incomes in India.
Also Read: Axis Bank NRI Account Opening: Apply for NRI Account Online
2. Axis NRI Demat account
Axis NRI Demat account is used to hold securities like stocks, shares, IPOs, and mutual funds, etc. in electronic format. The Demat account is linked with an NRI bank account and NRI trading account. Axis Bank is a depository participant of NSDL to provide NRI Demat accounts. You can choose the subtype as repatriable or non-repatriable. An NRE or NRO bank account is linked with the Demat account. The dividend, interest or bonus earnings are automatically credited to the linked NRI bank account.
3. Axis NRI trading account
NRI trading account is used to place buy/ sell orders for stocks and derivatives trades. Linked with a Demat account and bank account, it allows NRIs to invest in avenues such as stocks, IPOs, ETFs, NCDs, bonds, corporate fixed deposits, currencies and more. Users can use multiple platforms such as online portal, mobile app, Swift Trade, Direct Trade, and trade-on-phone.
AxisDirect NRI trading charges
Axis Direct charges for NRI Demat account and brokerage for trading in equity and equity derivatives are as under:
| Particulars | Charges |
| --- | --- |
| Axis NRI account opening | Rs. 2500 |
| PIS Account AMC | Rs. 1500 |
| Equity delivery brokerage | 0.75% |
| Equity future brokerage | 0.05% |
| Equity options brokerage | Intraday: 1p per lot |
| Other charges | Min brokerage: Rs. 50 |
Axis Direct NRI Account Charges
Axis Bank 3-in-1 account opening process
AxisDirect NRI account opening process is fast and simple. Here are the steps to open Axis Bank trading account:
Fill NRI account application form online
Get a print of the application form and sign where required
Upload the scanned application form and attested supporting documents
The bank will verify the documents and arrange document pick-up after verification
Documentation
Here is the list of documents required to open Axis Bank trading account for NRIs. You need to submit notarized copies of all these documents:
Photo: 2 passport size photogrpahs
Identity proof: Valid passport (for NRIs), PIO or OCI card (for foreign citizens)
NRI status proof: Employment ID/ residence address/ student ID, etc.
Overseas address proof: Driving license/ utility bills
Indian address proof: Aadhaar card/ voter's ID/ Indian passport
Signature proof: PAN card/ passport
Additional proof: Bank statement/ cheque
PAN card with photograph
Note:
NRIs can open both NRO and NRE accounts with Axis Bank, but only one of the bank accounts will be linked with Axis NRI trading account.
Linking your Axis NRE account with the trading account enables you to trade in the Equity segment. If you link your NRO account, you'll be able to trade in both Equity & Derivative segments. Open two trading accounts if you want to map both accounts.
NRIs are allowed to trade only in equity and equity F&O (Futures & Options).
With AxisDirect, NRIs can't trade intraday, currency and commodities.
Also Read: Mutual Funds for NRIs from USA/Canada to Invest in India
AxisDirect NRI customer
You can contact Axis Direct NRI customer care for any query regarding NRI trading account.
| AxisDirect NRI Helpline | Details |
| --- | --- |
| AxisDirect NRI customer care no. | +91 22 4257 0809 |
| AxisDirect customer care mail ID | |
Axis Direct NRI customer care details
Open an NRI PIS/ Non-PIS and Demat accounts instantly and get the best investment advisory. You can also get detailed investment advisory from experts at SBNRI. Download SBNRI App from the Google Play Store or App Store to ask any questions related to NRI Trading Account, NRI bank account opening online and tax filing in India. To ask any questions related to NRI account opening, click on the button below. Also visit our blog and YouTube channel for more details.