Non-Resident Indians (NRIs) and Persons of Indian Origin (PIOs) can apply for a PNB NRI account for depositing their overseas income and income sourced in India. NRIs can open two types of NRI accounts – NRE and NRO savings accounts.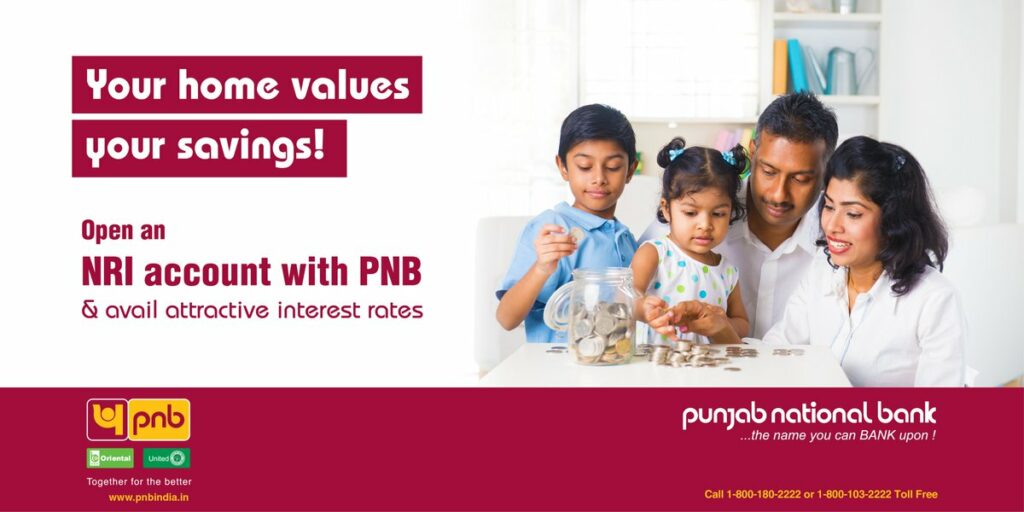 Key Features of PNB NRI Account
NRIs can open an NRE savings account in Punjab National Bank to save their foreign earnings and NRO savings account to deposit income received from resources in India. Here are important features of a PNB NRI account.
PNB NRE Savings Account
PNB NRE accounts can be opened from remittance received in foreign currency which is converted into Indian Rupees (INR) at the prevailing exchange rates.
The account is maintained in INR.
The account can be held jointly in the names of two or more NRIs/ PIOs on `either or survivor basis'.
NRI can also hold the account with a resident relative on 'former or survivor' basis.
Principal and interest are freely repatriable outside India.
Interest earned is exempt from income tax in India.
PNB NRO Savings Account
PNB NRO savings accounts can be opened either from remittance in a foreign currency or income sourced in India.
NRO accounts can be opened jointly with a resident only on `Former or Survivor basis'.
NRIs can repatriate up to $1 million in a calendar year from funds held in their NRO account.
Interest earned in an NRO account is subject to a tax of 30% (plus applicable surcharge and cess). However, NRIs can get higher yield by availing DTAA facility.
PNB NRE/ NRO Account Interest Rate
Listed below are the PNB NRE/ NRO savings account interest rates:
| Saving Fund Account Balance | Interest Rate |
| --- | --- |
| Less than Rs. 10 lakh | 2.70% |
| Rs.10 Lakh to less than Rs.100 Crore | 2.75% |
| Rs.100 Crore & above | 3.00% |
PNB NRI Account Interest Rates
PNB NRI Account Opening Procedure
There are two ways to open an NRI account – send account opening form to a Punjab National Bank in India or open an NRI account online with leading Indian banks through SBNRI:
PNB NRI Account Opening
Download account opening form (AOF) available on PNB's website – NRI Services, or
Request for AOF at email ID [email protected]
You can submit duly filled AOF (complying under-noted stipulations) along with the supporting documents to the centralized center of Punjab National Bank as under:
NRI Cell, IBD division, PNB corporate office
Fourth floor, East Wing, Plot no: 4
Sector-10 Dwarka, New Delhi-110075, India
Telephone Nos. 011- 28044202, 011-28044201 E-mail ID: [email protected]
NRIs can open the account during their temporary visits to India. NRO account can be opened using Indian income and NRE against tender of foreign currency traveller cheques/notes.
NRE accounts can be opened by remittances from abroad in a convertible currency or from transfer of funds from existing NRE/FCNR accounts held by NRIs with any bank in India. These accounts can be opened at all branches of PNB.
Open NRI Account Online
You can apply for NRI account opening online. Click on 'Open NRI Account' button on this blog or download SBNRI App. Take the following steps to open an NRI account on the SBNRI app online:
Download the SBNRI app from the Google Play Store or App Store.
Sign in using your credentials.
Click the 'Open NRI account' button and select the bank with which you wish to open an NRI bank account from the bank list.
Scan and upload KYC documents using the in-app scanning feature.
Click on 'Apply' and you are done.
Documents Required
To open PNB NRI account, you need to send the following documents along with the account opening form:
Two passport size photographs of each account holder.
Copies of relevant pages of passport & valid visa.
Proof of current address (overseas)
Initial remittance for opening of NRI account by way of demand drafts in rupees/ personal cheques in foreign currency/ wire transfers / SWIFT/ foreign currency/ travelers cheques (in person only)
A set of specimen signatures of applicants on a separate sheet duly attested by bank/ a banker/ Indian Embassy/ consulate/ notary public
PNB NRI Customer Care
NRIs and OCIs can contact the dedicated PNB NRI help desk for queries/ grievances. Address and contact details of PNB NRI help desk is as under:
NRI Cell (International Banking division)
PNB Corporate Office
4 th Floor, East Wing
Pot No: 4, Sector-10 Dwarka,
New Delhi-110075, India
Phone No: +91-11- 28044201
NRIs living in the following countries can also contact international toll free Nos:
United States: +18444519295
United Kingdom: +448000318030
UAE: +800035770298
NRI customers can also send email:
Final Words
Due to lots of information and documentation required to apply for NRI accounts, NRI account opening process is lengthy and cumbersome elsewhere. You can download SBNRI App to apply for an NRI account with nominal documentation in just 10 minutes.
You can also click on the button below to apply for an NRI account. Visit our blog and YouTube Channel for more details.