President Putin and Prime Minister Modi had a meeting at the annual summit of the Shanghai Cooperation Organisation (SCO) in Samarkand, Uzbekistan. Putin stated that India's rich history and ancient culture greatly interest the Russian people. According to Russia's official news agency, TASS. Putin added, "we propose accelerating the process of negotiations towards an agreement on visa-free tourist travel."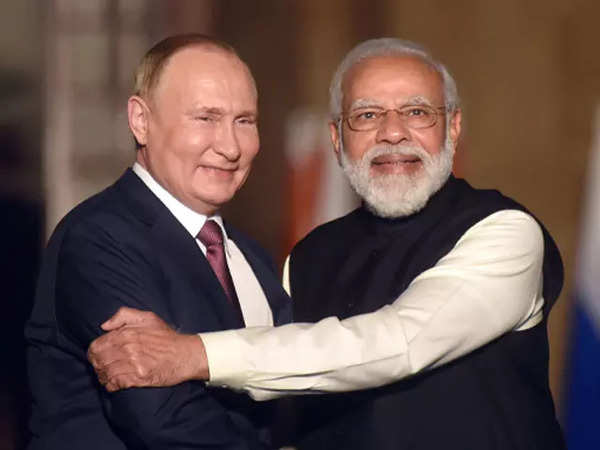 Prime Minister Modi praised Putin for helping to evacuate thousands of Indian students from Ukraine after Russian troops launched a "special military operation" against the neighboring nation in February and noted that Moscow and New Delhi have had a long-standing relationship.
Between 2016 and 2019, the number of Indian tourists visiting Moscow increased from 61,000 to over a lakh. The volume of traffic increased to 40% of pre-pandemic levels in 2021. Additionally, it was noted that 48% of Indian tourists who visited Moscow in 2021 did so twice.
Alina Arutyunova, the deputy chairperson of the Moscow city tourist committee, revealed to TOI that such a scheme was in the works just days prior while she was in Mumbai.
"The President of the Russian Federation has supported an initiative to introduce a visa-free regime for group tourists. Such an order has already been received for Iran on Tuesday. It's possible that the same assignment will soon be for India," Arutyunova said.
According to her Turkey, Germany and India are the top three non-CIS countries that send the largest volume of tourists to Moscow.
Arutyunova stated that "In 2020, a resolution was passed on the introduction of electronic visas for 52 countries, including India. Due to Covid-19 restrictions, the resolution has not yet entered into force, but we very much expect that the project will be launched soon, and e-visa will simplify the process of arrival of foreign tourists."
About the effects of the Russia-Ukraine war Arutyunova added: "Even in the case of worldwide uncertainty, tourism is a bridge between peoples and cultures. This year, during the first six months, Moscow hosted 13,300 Indians. It is expected that the pre-pandemic figures will be reached by the end of 2023."
Given that India already has an electronic visa system in place for Russian citizens, it is thought that India is waiting for reciprocity from the Russian side for Indian citizens. Visa-free travel will lead to Increased Indian tourism and improve relations with Russia and develop interpersonal ties.
Prime Minister Modi added before departing from Delhi that "At the SCO Summit, I look forward to exchanging views on topical, regional and international issues, the expansion of SCO and on further deepening of multifaceted and mutually beneficial cooperation within the Organization. Under the Uzbek Chairship, a number of decisions for mutual cooperation are likely to be adopted in areas of trade, economy, culture, and tourism." 
President Putin stated that "I would like to wish India all the best. I also know that tomorrow, my dear friend, you are about to celebrate your birthday. As per the Russian tradition, we never offer congratulations in advance. So, I cannot do that right now."
Putin added "But I would like you to know that we know about that. And we wish you all the best. We wish all the best to the friendly Indian nation and we wish prosperity to India under your leadership."
At a conference in Shanghai in 2001, the leaders of Russia, China, the Kyrgyz Republic, Kazakhstan, Tajikistan, and Uzbekistan created the SCO. One of the biggest worldwide transregional organizations has grown out of it through time. Its permanent members in 2017 were India and Pakistan.
Following today's meeting, the SCO Heads of State Council endorsed declarations calling for cooperation on issues such as combating climate change, establishing dependable, sustainable, and diverse supply chains, and ensuring global food security and international energy security.
Russia has been in the news due to the war with Ukraine recently. It is interesting that President Putin is engaged in these types of negotiations during this time. Many nations including most western nations have taken issue with Russia's invasion and have imposed economic sanctions. Russia has curbed gas supply to Europe, leading to major hardship. This has soured relations further. India has had friendly relationships with Russia historically and even now. This must be one of the reasons for this proposal at this time.
To ask any questions related to the rights of NRIs, PIOs, and OCIs, you can download SBNRI App from the Google Play Store or App Store. You can also use the SBNRI app for investment in stock market/ mutual funds, NRI account opening, tax filing, etc. To ask any questions, click on the button below. Also, visit our blog for more details.
FAQs
What does SCO stand for?
It stands for Shanghai Cooperation Organisation.
What is Russia's official news agency called?
It is called TASS.
What are the top three non-CIS countries that send the largest volume of tourists to Moscow?
Turkey, Germany and India are the top three non-CIS countries that send the largest volume of tourists to Moscow.

What has been the result of Russia curbing gas supply to Europe?
This has led to major hardship for Europe.