The top five Indian designers are the rulers of a massive empire. Their designs are publicized by Bollywood and the media worldwide to vast Indian and NRI audiences. Their designs are highly coveted for weddings and other special occasions. The following 5 designers are extremely different from each other. It is interesting to note how starkly their inspirations and designs differ. Let's learn more about the designers who inspire our dreams and captivate our imagination!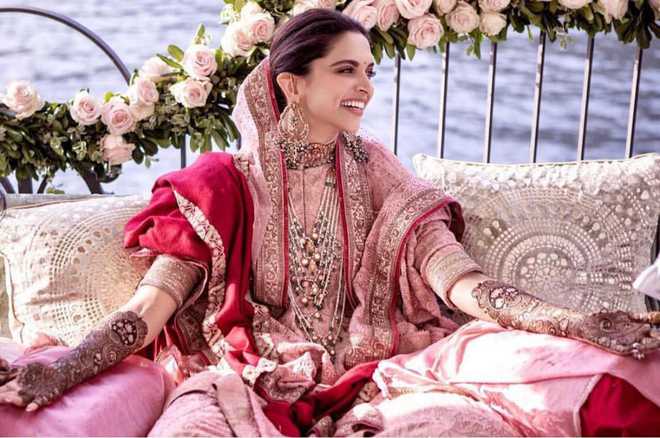 1. Sabyasachi Mukherjee
The Anushka Sharma-Virat Kohli, Deepika Padukone-Ranveer Singh, and Priyanka Chopra-Nick Jonas weddings were all designed by Sabyasachi. His designs are known for their elegance, timelessness, and vivid use of color. Sabyasachi creates jewelry as well. Very traditional themes inspire his designs and many traditional fabrics are used in them. Sabyasachi has designed costumes for movies like Guzaarish, Baabul, Laaga Chunari Mein Daag, Raavan, and English Vinglish. He brings a distinct nostalgic feeling through his designs along with an old-world charm.
2. Rohit Bal
Rohit Bal is known for his terrific fusion of Indian and western design. His designs are iconic, edgy, and bold. Bal was born in Kashmir and studied at St.Stephens and NIFT before launching his label. Today Bal is one of the best-known designers in Indian fashion. Time magazine has called Bal "India's Master of fabric and fantasy." His signature motifs are the lotus and the peacock. Bal's clients include Uma Thurman, Cindy Crawford, and Naomi Campbell. He is also responsible for reviving dying arts of India through his work.
3. Manish Malhotra
Manish Malhotra is famous for all the designs he has created for Bollywood films. He designs the quintessential glamorous and show-stopping ensembles we all love so much. The dramatic flair of his designs makes them perfect for movies and big events. Malhotra has designed for films such as Rangeela, Dil to Pagal Hai, Kabhi Khushi Kabhi Gham, Dostana, Ra.One, Ae Dil Hai Mushkil and Kalank.
4. Tarun Tahiliani
Tarun Tahiliani is a very well-established designer. He founded his design studio in 1990. His designs are extremely sophisticated and have a lot of detailed work in them. Tahliani's designs are very Indian in their inspiration and very compatible with western style sensibilities. These designs epitomize refinement, elegance, and luxury. Whites, pastels, creams, and bold colors are all used. Tahliani bridal designs are especially popular.
5. Masaba
Masaba Gupta is the best-known Indian designer for everything colorful and different. The designs are edgy, bold, eye-catching, and truly one of a kind. They really make a statement. Masaba Gupta is the daughter of the famous actress Neena Gupta. The two even have a drama series called Masaba Masaba. Masaba is a younger designer compared to most on this list. She has really built a brand that stands out. Her designs speak for themselves. They symbolize freshness and energy.
It is interesting to note that each of the above designers has a very unique niche of their own. Sabyasachi has traditional inspirations, fabrics, and jewelry. He uses a lot of color in his designs. In comparison, Tarun Tahliani has more understated and detail-oriented designs. The emphasis is more on elegance, refinement, and luxury.
Masaba Gupta's designs are vibrant, fresh, colorful, and bold. She stands out the most on this list. There is a very distinctly innovative feel to her pieces. All the parameters of color, motif, design and proportion are unique.
Manish Malhotra's designs are etched into everyone's minds through years of Bollywood films. His designs are truly iconic. Everyone remembers Kareena Kapoor dancing in his designs in Kabhi Khushi Kabhi Gham. Manish Malhotra stands for everything synonymous with Bollywood and big Indian functions. He creates outfits that are glamorous, iconic, and guarantee you will be the center of attention.
Indians everywhere can enjoy the designs and the inspiration these designers create. They put together wonderful representations of Indian art and history, often in contemporized pieces. It is also incredible that Indians everywhere can access the latest in Indian design through the global presence that these designers have. We hope that our article inspires you to learn more about great Indian designers and their work. We can all continue to appreciate India's great history and culture. May you have a wonderfully well-dressed next festive occasion!
To ask any questions related to the rights of NRIs, PIOs, and OCIs, you can download SBNRI App from the Google Play Store or App Store. You can also use the SBNRI app for investment in stock market/ mutual funds, NRI account opening, tax filing, etc. To ask any questions, click on the button below. Also, visit our blog for more details.
FAQs
Who is the Indian designer best known for his costumes in Bollywood films?
Manish Malhotra is best known for his costumes in Bollywood films. Malhotra has designed for films such as Rangeela, Dil to Pagal Hai, Kabhi Khushi Kabhi Gham, Dostana, Ra.One, Ae Dil Hai Mushkil and Kalank.
Which young Indian designer is known for her innovative and colorful designs?
Masaba Gupta is known for her innovative and colorful designs.
Which top Indian designer studied at NIFT?
Rohit Bal studied at NIFT.

Which designer did Deepika Padukone wear for her wedding?
Deepika Padukone wore the creations of Sabyasachi Mukherjee.