Fashion and clothing are the best friends ever whether it's for men or women. Festivals are the best occasions to spot the brilliant sense of Ethnic Diwali Dress, especially for Indians. The festival of lights, Diwali is one of the favorite ones for kids as well adults as well as teens to get the best dressing ideas on the festival clothes. There can be a plethora of patterns, colors, styles, and fabric materials included in the ethnic wear for Indian dresses. Let's have a look at 7 Ethnic Diwali Dress Ideas for Indians in Singapore.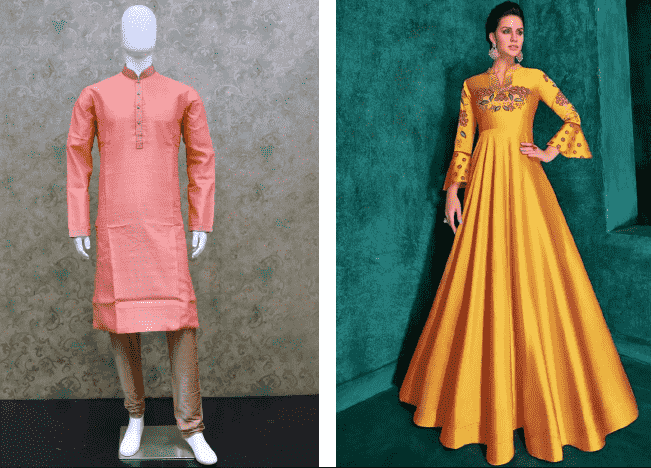 What to Choose as an Ethnic Dress on Diwali?
It is compulsory to wear new clothes as per your budget and liking but Dress Ideas for Indians in Singapore dresses are preferred on spot.
Designer Kurta Dhoti For Men And Saree For Women
On the special day of worshipping goddess, Laxmi for wealth and health fortune can be purer with the clean new traditional or with a modern twist of innovative ideas based clothes. There can be simple or designer dhoti with kurta set or pajama choodidaar can also be the authentic traditional choice for men. When it comes to women, the saree is an all-time favorite for festive celebrations. Designer saree or embroidery work on thick fabrics can be the best outfit for Diwali.
Even Banaras silk and kanjivarams can bring the charm of the assorted to portray creativity. A red color saree can make the occasion look more enjoyable, so choose the best as per your choice.
Patani Suit With a Kurta Salwar Set
Colors are very important for the day-wise worshipping of Diwali and if the selection can be done based on those the fabric and design can be an added advantage. Black is also important like red, especially on chaudas.
Traditional touch with pathani suit can pair up correctly with the colorful kurta salwar suit for the couple. Nowadays it is also in fashion and modified additions to the ethical dresses are appreciated by the young generation. So, check for your taste in the pairing set.
Waist Coat And Lehnga Choli Set
Lehnga choli is not only for wedding atmosphere outfits but the festive likes too especially for girls of any age group. Whether you are talking about the heavy lehnga or frill-based colorful fabrics selection, you can go with any material you are comfortable with.
Waistcoat with a diverse set of creative matchups to the looks and styles is on trend to signify the 7 Ethnic Diwali Dress Ideas for Indians in Singapore. Do you have your range in hand to decide?
Jodhpuri Waistcoat or Shirt And Anarkalis
Jodhpuri flavor to the clothing can take you to the ethics of valuable assets of India. So, wearing a simple shirt or a Jodhpuri waistcoat can make you the center of attraction to all. Anarkalis are passionate about many women and girls. The floor-length anarkalis are a party wear awesome collection with heavy fabrics.
Better to choose chiffon, georgette, or mul for the Anarkali. You can have a collar or sleeveless with a cut-back design to give yourself the divine look.
Shararas And Ghararas
Men's costumes can be of limited choice but women can be just like the ocean to dive and get a new every time. Nowadays Shararas are the party pants favorite to all with a traditional look. They are just flared pants with ghera at the bottom while fitted at the waist side. It can be paired with a short or long kurta printed or any type of pattern.
The awadh era can hold the credit for sharara and gharara based on the gheras of the dresses. Gharara is different only slightly as sharara's flares arrive below the knees whereas gharara's it's from the knees or above that. Short kameez can go well with gharara.
Plazzo And Kurti or a Fusion of Traditional or Western
When it comes to the best fusion twist, new trends of plazzo and Kurti can have the contemporary touch of fusion that can define the fashion sense of one. The eye catchy palazzo print with variations of designs can attract you to get it for the festive zone. You can even wear an off-shoulder western top with lehngas. Many experiments like this can give you the correct outfit to match.
Jumpsuits With an Ethical Twist
Jumpsuits are even a little bold but with an ethical print, they can suit well to the occasion. You can have a dupatta on a monotone jumpsuit. You can have additional accessories like heavy jewelry to make it a grand look.
Bottom Line
The right choice from the 7 Ethnic Diwali Dress Ideas for Indians in Singapore can make you full of confidence and close to your rituals despite of location. So, choose the best ethical wear as per your satisfaction.
You can also click on the button below for more information. Visit our blog and YouTube Channel for more details.
Can dhoti pants and tops be counted on the occasion of Diwali?
Yes, of course! The right selection of dhoti pants with the traditional twist of the top can make the purpose fulfilled on the occasion.
Can I go for bold colored saree on Diwali?
It's up to your choice as no compulsion is kept for color selections using bright or light.
Can a white shirt with an ethnic long skirt be a dress idea for Diwali?
Yes, you can choose a mirror work or zari work or any kind of embroidery on a skirt with an ethical look to pair with the shirt. Jewelry and another accessory can be additional choices.