NRIs can get better foreign currency yields with attractive ICICI FCNR rates. Moreover, there is no foreign currency exchange risk, ensuring high and guaranteed returns. ICICI Bank FCNR fixed deposits can be booked in 6 foreign currencies – USD, GBP, CAD, SGD, AUD and HKD. Current ICICI Bank FCNR rates are listed below.
To open an NRI account or to know about NRI investment options in India, you can click the button below.
ICICI FCNR Rates 2023
Recently, most Indian banks have raised FCNR rates. Likewise ICICI Bank has also hiked FCNR FD rates after the RBI removed the ceiling on interest rates on incremental FCNR (B) and NRE deposits. ICICI Bank FCNR rates w.e.f. August 14th, 2023 for deposit made in 6 different currencies are as under:
| Tenure | USD | GBP | CAD | AUD | SGD |
| --- | --- | --- | --- | --- | --- |
| 12 months | 5.55% – 5.85% | 5.50% | 4.75% – 4.80% | 4.25% | 3.50% |
| Above 1 year to less than 15 months | 5.00% | 5.00% | 4.50% | 4.00% | 3.50% |
| 15 months to less than 24 months | 4.75% | 5.00% | 4.25% | 4.00% | 3.25% |
| 2 years to less than 3 years | 4.25% | 4.75% | 3.75% | 3.75% | 3.00% |
| 3 years to less than 4 years | 4.00% | NA | NA | N/A | NA |
| 4 years to less than 5 years | 3.75% | NA | NA | NA | NA |
| 5 years | 3.75% | NA | NA | N/A | NA |
ICICI Bank FCNR Deposit Rates w.e.f. June 1st 2023
Note: If you choose to close your FCNR deposits before the due date:
Closure before one year: No interest will be paid and no penalty on premature withdrawal.
After completion of one year: In case of premature withdrawal, interest will be calculated at the rate applicable for the period for which the fund was deposited with ICICI Bank or contracted rate of the deposit whichever is lower and penalty will not be applicable.
ICICI Bank FCNR Rates are subject to change from time to time.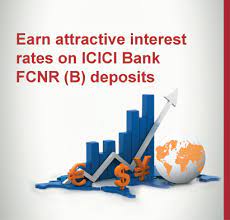 ICICI Bank Minimum FCNR deposit
Listed below is the minimum deposit amount required for an FCNR deposit made in different currencies:
| Currency | Minimum Deposit amount |
| --- | --- |
| USD, GBP | 1000 |
| SGD, CAD and AUD | 2000 |
ICICI Bank Minimum FCNR Deposit
Key Features
ICICI Bank provides FCNR deposits for NRIs and OCIs looking to keep their money in foreign currency for higher returns.
You can book FCNR deposits in 6 foreign currencies.
FCNR deposits can be booked via internet banking, I-mobile, Phone Banking, wire transfer, or request at your nearest branch.
Tenure ranges from 1 to 5 years for foreign currencies like USD, GBP, CAD, AUD, HKD, and SGD.
Benefits of ICICI Bank FCNR Deposit
Higher returns on foreign currency deposits.
Denominated in foreign currency, hence no impact of exchange rate fluctuations.
Principal amount and interest earned is fully repatriable to an account outside India.
Interest earned on an FCNR deposit is completely tax-free in India.
Appropriate investment option when you are not sure where to invest your earnings to avoid dual conversion of your money.
Loans available against FCNR accounts in India and abroad.
How to Open ICICI Bank FCNR Account
You can open an FCNR account either through internet banking, iMobile or you can visit the nearest ICICI Bank branch. The account can be opened in any freely convertible foreign currencies. Please note that ICICI FCNR interest rates vary for different currencies.
How to Deposit Money in the FCNR Account?
You can transfer money into the FCNR account through remittance from foreign currency account outside India or from your NRE account in India. If funds are transferred from the NRE account, the amount will be converted into the desired foreign currency at existing exchange rates and then deposited in foreign currency equivalent.
Why should NRIs open FCNR Account in India
By opening an FCNR account, NRIs can earn high returns without currency exchange. ICICI Bank FCNR interest rates are much higher compared to rates on deposits in other countries. It is a better opportunity to generate returns in India much greater than what you can generate, say in the USA, as an NRI.
For example, the annual percentage yield (APY) of CDs (certificates of deposits) of the top five banks including JP Morgan Chase, Bank of America, Wells Fargo and U.S. Bancorp, currency is about 0.02%-1.01% for 3-year deposits. A certificate of deposit with a12 months maturity period offers rates at 0.02%-0.10%.
Whereas FCNR(B) deposits can give a yield of 3.50% – 5.90% interest rates.
SBNRI is an online one-stop platform for expert services and advisory on all major NRI specific aspects including NRI FD schemes.
To get end to end assistance with booking of FCNR(B) Fixed Deposits, you can connect with our expert using the button at the end of the article. You can also browse through the NRI Account Opening grid that we have prepared specially for NRIs and get expert advisory and assistance seamlessly and complete the entire process at the comfort of your homes. Also, visit our blog and YouTube Channel for more details.
FAQs
Can I transfer funds to open FCNR deposit account from a third party account?
Both beneficiary and remitter must be the same for FCNR fixed deposit. 
What is the tenure for an FCNR deposit with ICICI Bank?
An FCNR deposit can be maintained for a tenure ranging from 12 months to 60 months. 
Can NRI have a nominee for FCNR deposit?
Yes, you can register your nomination with this account.
Can I transfer the FCNR fixed deposit closure proceeds to a third party account?
FCNR closure proceeds can be transferred to an account where the FCNR account holder is a primary applicant.