'iSprint21: BankTech' was the global FinTech Hackathon Series of International Financial Services Centres Authority (IFSCA), GIFT City and Niti Aayog. The partners to the Hackathon include ICICI Bank, HSBC Bank, iCreate, Zone Startups and Invest-India.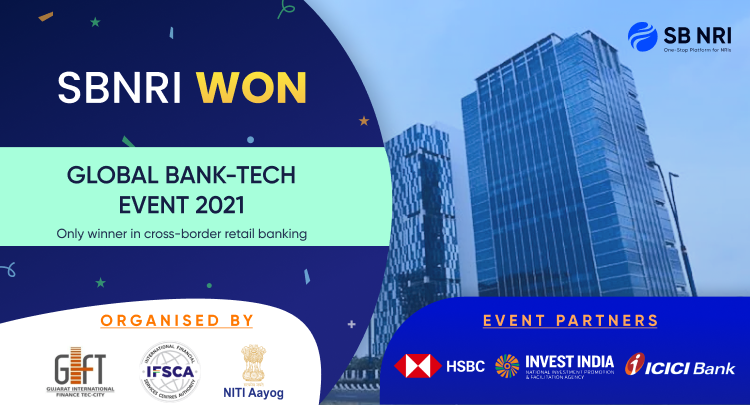 GIFT City (Gujarat International Financial Tec-City) is India's first Global Financial hub, developed as an alternative to financial hubs like London, Singapore, Hong Kong.
Also Read: Cross border investment: Why is money in hard and money out easy?
SBNRI's persistent efforts to simplify NRI banking and investment services for its NRI customers have been recognized at the Hackathon with 250+ global participants. SBNRI Technologies was rewarded for developing innovative banking and financial products for retail customers focusing on NRIs/PIOs/OCIs to activate flows seamlessly to India.
SBNRI was recognized in the 'Retail Banking Products' category for providing seamless banking experience to NRIs. SBNRI leverages state-of-the-art financial technologies to facilitate financial transactions for NRIs in India, such as NRI account opening, investment in Indian markets, repatriation, instant resolutions to their queries and so on.
The other two winners of the event are Signzy Technologies Private Limited and EdgeVerse Systems Limited, who were recognized in Unified KYC Solution and Buyers Credit Optimization categories respectively.
All three winners will enjoy direct entry into the applicable IFSCA Regulatory/Innovation Sandbox. They will be provided with regulatory guidance and handholding to build innovative products for their audience. In addition, the winners will get an opportunity to get access to APIs, mentoring and guidance from Partner Banks. After successful exit from the respective Sandbox, they will get an opportunity to set up businesses at GIFT IFSC.
SBNRI provides a whole host of NRI banking and investment services to NRIs, OCIs and PIOs. It has partnered with leading Indian banks, stock brokers and investment platforms and is rapidly enabling NRI customer onboarding.
NRIs can digitally invest in new-age asset classes that offer attractive returns, including Pre-IPOs, Micro VC Funds, Commercial Real Estate, and Asset & Inventory Financing. You can download the SBNRI app to explore these investment options.
You can also click on the button below to ask any questions. Visit our blog and YouTube Channel for more details.