The state religion of Qatar is Islam, which is also a Salafi state like its neighboring country Saudi Arabia. The country has a Muslim population of 67%, and they virtuously offer prayers (Namaz) throughout the day. Where they also give extreme importance to these prayers to get the righteous rewards from the almighty. Muslims have five obligatory prayers daily; these prayers are offered across the day at various timings which depend upon the sun. These prayers have a great significance in light of various Prophet hadiths and verses from the Holy Quran. Here we will discuss Islamic prayer time in Doha for NRIs.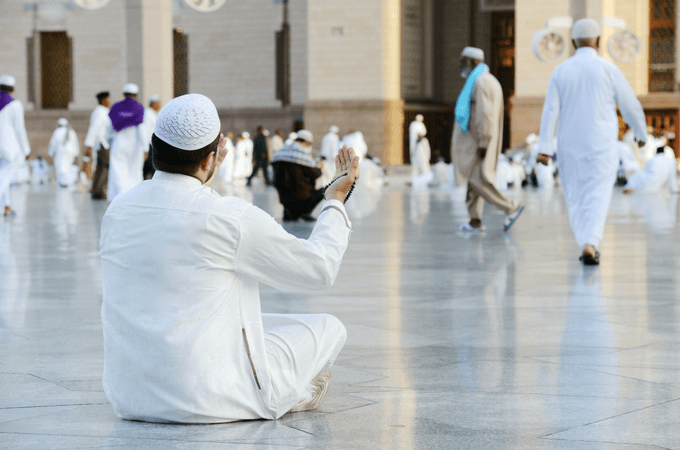 Islamic prayer time in Doha for NRIs
Fajr Prayer-
This is the first prayer of the day, performed by the Muslims before sunrise, to start their day with the name of Allah and give them the right foundation for their day ahead. It is believed this is a great way to seek blessings of Allah Almighty. It is regarded as a very important prayer that enhances the beauty and enlightens the face of that person from Noor. In Qatar, you can offer this prayer early in the morning between 3:30 A.M. to 5:00 A.M. depending on the month. Like in August, this prayer can be offered between 3:35 A.M to 3:55 A.M. But, majorly an early morning time, at around 4:00 A.M. is considered best for offering this prayer.
Zuhar Prayer-
The noontime Zuhar prayer is regarded as the second prayer of the day. This contains 4 Sunnat Rakats, 4 Farz Rakats, 2 Sunnat Rakats, and 2 Nafil Rakats. This prayer is significant because it guarantees that whoever offers it, would receive innumerable blessings from Allah and be spared from the torment of hell. A person will be healthy and free from all ailments if they consistently offer Zuhar from a pure heart. You can offer this prayer between 11:00 A.M. to 11:30 A.M., depending upon the month itself.
Asar Prayer-
This is the third-afternoon prayer, offered by Muslims. This includes 4 Rakkat Sunnat and 4 Rakat Farz. It is believed that this prayer will shower the blessings of Allah on you and increase your wealth. Muslims consider that this prayer is witnessed by the Angles, and hence it is highly regarded that on the day of the judgment, the individual who makes this prayer will be spared from the fires of hell. The best timing for this prayer is between 2:30 P.M. 3:15 P.M. post noon time, depending upon the month.
Maghrib Prayer-
Maghrib is the fourth prayer, which is offered in the evening. It consists of 2 Sunnat, 2 Nafil, and 3 Farz Rakat. For Muslims, Maghrib Prayer is really important, as it will fulfill all their Dua's and bestow innumerable blessings on them. This prayer is performed, when the redness starts to appear in the sky and then the sun is completely set beneath the horizon. Depending upon the month, the prayer time for Maghrib is suitable largely between 4:45 P.M. to 6:00 P.M. It's a prayer that is offered before the final sunset, so you can perform it accordingly.
Isha Prayer-
Isha is the final prayer of the night and consists of four Sunnah, four Farz, two Sunnat, two Nafil, three Witr, and two Nafil Rakat. This is done to thank Allah for the day and to ask him to provide you a restful night's sleep and shower blessings upon you. This prayer is offered when there is complete darkness in the sky, and the white twilight in the sky has disappeared. Again, as per the month, the most suitable time to perform Isha is between 6:45 P.M to 8:00 P.M.
Islam is based on five pillars, and offering prayers is one of them and is obligatory to every Muslim Ummah. It is regarded that in Islam, there is no intermediary, and the one directly interacts with the God. That is why these prayers are also called Salah/ Salat, in the Arabic language, which means directly communicating with the Almighty Allah.
NRIs and OCIs living in Doha or any parts of Qatar can ask any questions related to India. You can download SBNRI App from the Google Play Store or App Store to get in touch with us. You can also use the SBNRI app for investment in stock market/ mutual funds, NRI account opening, tax filing, etc. To ask any questions, click on the button below. Also, visit our blog and YouTube channel for more details.
FAQs
Is there any standard time for prayer in Qatar?
It is said that Muslims, must follow these 5 prayers at specific timings, but this time may vary according to the position of the Sun during the year, but the above-mentioned schedule combines the various prayer times for the Qatar residents.
Where to check the daily timing for these prayers?
There are multiple websites and mobile applications, which can be used to track daily timings for these prayers, starting from Fajr to Isha.
Is it mandatory to pray in the Mosque in Qatar?
No, it is not mandatory, but highly advised, if one can go and pray in the mosques. Although you can pray anywhere you want.
Is there any ritual that one needs to follow before performing these prayers?
Yes, one needs to perform the washing ritual called 'Wudu', before offering these prayers. This is a literal as well as a symbolic requirement. Even the mosques have these washing facilities.