OYO Rooms, also known as OYO Hotels & Homes, is an online hotel booking platform i.e. oyorooms.com. Founded in 2013 by Ritesh Agarwal, OYO has expanded globally with thousands of hotels, vacation spots, and millions of rooms across several countries in the world, including India, UAE, UK, Japan, Saudi Arabia, Vietnam, US, etc. The rapid growth of OYO for several years has been attracting investors' attention. Here you will learn about the OYO unlisted share price and how to buy an unlisted share.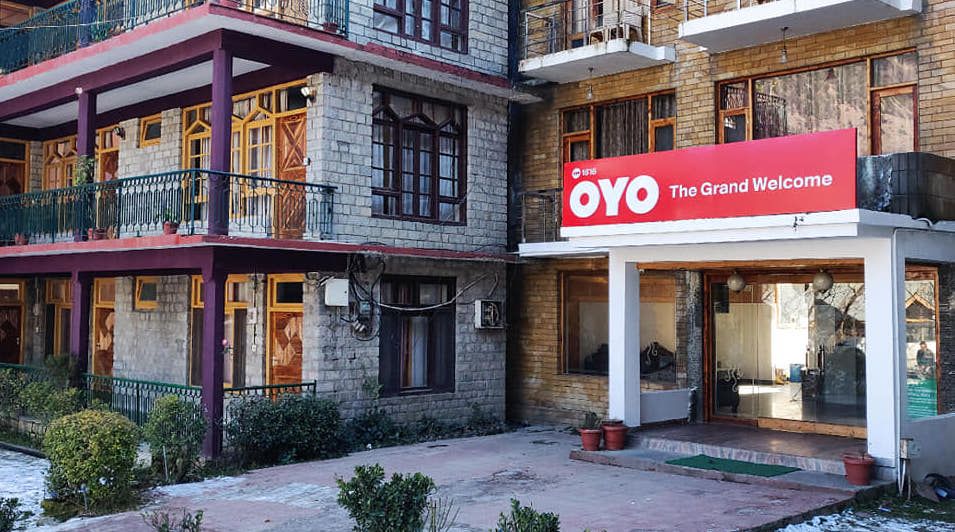 OYO Unlisted Share Price
Before buying, selling, and investing in OYO shares, it is important to know about OYO Rooms Share price, market cap, business model, financial growth, valuation, or OYO share price history (unlisted share price) beforehand.
OYO Rooms Unlisted share price
139.00 – 125.00
52 week High
139.5
52 Week Low
0
| | | | | | |
| --- | --- | --- | --- | --- | --- |
| Sector | Consumer discretionary | Sub-sector | Hotels, Resorts & Cruise Lines | Category | Pre IPO |
| P/E | -24.78 | P/S | INF | P/B | INF |
| Industry PE | 00.00 | Face value | 1.00 | Book Value | 0.00 |
| Market Cap | Rs. 84406.78 Cr | Dividend | 0.00 | Dividend Yield | 0.00 |
OYO Rooms Share Price Essentials
Note: These Oyo unlisted share prices are tentative and based on industry standards.
OYO Growth
OYO compounded sales growth
| Year | 1 Year | 2 Year | 3 Year |
| --- | --- | --- | --- |
| Compounded Sales Growth | -69.91% | -20.89% | 41.32% |
OYO compounded sales growth
We have 100+ companies on our app for Pre-IPO investment, with the best market price to suit varied investment needs and goals of NRI customers. To buy these shares or ask any questions related to them, Schedule a Call with Investment Experts.
OYO Business Model
The unique business model of OYO helps the patrons transform their underrated and under-utilized hospitality assets into branded, digitally enabled storefronts for higher revenue generation and provides its large base of customers with easy access to a broad range of high-quality storefronts at competitive prices.
OYO provides an integrated, full-stack technology suite to hotel and home business patrons, which empowers all mission-critical aspects of their business operations. Patrons, in return, provides OYO with distribution rights and also OYO can take pricing decisions related to storefront inventory, which enables them to scale up their revenue generation potential through dynamic pricing algorithms.
Asset-light Model of OYO
OYO has an asset-light business model and a lean cost structure. None of the storefronts (hotels and homes) listed on the platform is owned by OYO. As of 31st March 2021, 99.9% of the storefronts had no contracts with minimum guarantees or fixed payout commitment from Oravel Stays Limited, with any capital expenditure, investments, hotel employee costs and other expenses related to the operation of storefronts borne large.
Shareholdings
| Name of shareholder | Holding |
| --- | --- |
| RA Hospitality Holdings (Cayman) | 52.55% |
| Ritesh Agarwal | 42.49% |
OYO Rooms shareholdings
OYO Assets
Following are the tangible and intangible assets of Oravel Stays Pvt. Ltd. (OYO) as on 31st March 2021.
| Assets | Amount |
| --- | --- |
| Land and Buildings | Rs. 34.92 cr |
| Vehicles | Rs. 2.16 cr |
| Computers | Rs. 96 cr |
| Leasehold Improvements | Rs. 75.6 cr |
| Goodwill | Rs. 2328.82 cr |
| Trade Mark | Rs.6.16 |
| Brand | Rs.1121.89 |
| Software | Rs.144 |
| Intangible Assets Website | Rs.2.30 |
| Franchisee Agreement | Rs.670.86 |
| Non Compete | Rs. 1.1 |
| Internally generated software | Rs.104.46 |
OYO Assets
OYO IPO Share Price
OYO Rooms has received in-principle approval from BSE and NSE for listing of the equity shares. The company is planning to raise as much as $1.2 billion in primary and secondary sales in the IPO and aiming for a valuation of more than $12 billion.
The Indian pre-IPO investment market has become a hot investment destination. Investors made 25-30% annual returns in the last 5-6 years by investing in Pre-IPOs. However, it may be risky to invest your hard-earned money without market research and investment guidelines. SBNRI is an online platform exclusively designed to cater investment and transactional needs of NRIs living around the world. The investment experts at SBNRI guide NRIs throughout the investment process.
To ask any question related to NRI investment in India, you can download SBNRI App from the Google Play Store or App Store. You can also use the SBNRI app for investment in stock market/ mutual funds, Pre-IPO, Asset Finance, Commercial Real Estate, Indian Startups Funds, NRI account opening, etc. To ask any questions, click on the button below. Also, visit our blog and YouTube channel for more details.
FAQs
How can an NRI buy OYO unlisted shares?
Following are the steps NRIs need to follow to buy OYO unlisted shares:
– Step 1: Click on the Schedule a call button above to speak to an NRI investment expert at SBNRI.
– Step 2: Fix up rate and quantity
– Step 3: Provide the offer note and necessary NRI and KYC documents
– Step 4: Finalize the trade by making the transaction for the purchase of share
– Step 5: Receive the shares in your NRI DEMAT within 24 hours
What is the minimum ticket size for investment in OYO unlisted shares?
The market of unlisted shares has been significantly expanding in India. As a result, the ticket size has reduced from the previous 5-10 lakh to 35-50k today. You can buy an OYO unlisted share starting from as low as Rs. 35-50k through SBNRI platform. 
Is it legal to buy unlisted shares in India?
Yes, buying and selling of OYO's unlisted shares in India is 100% legal.