Venture capital funding plays an important role in the growth of a startup company. Indian startups raised over $12.1 billion in the form of venture capital funds in the first half of 2021. As per a report by KPMG, venture capital investment in India has increased twofold from its previous quarterly high of $6.7 billion in second quarter of 2021 to $14.4 billion during third quarter 2021. Companies can raise funds either from venture capital firms or private equity investors. Raising funds from venture capitalists is helping Indian startups grow in the global landscape. Listed below are the top 10 venture capital firms in India.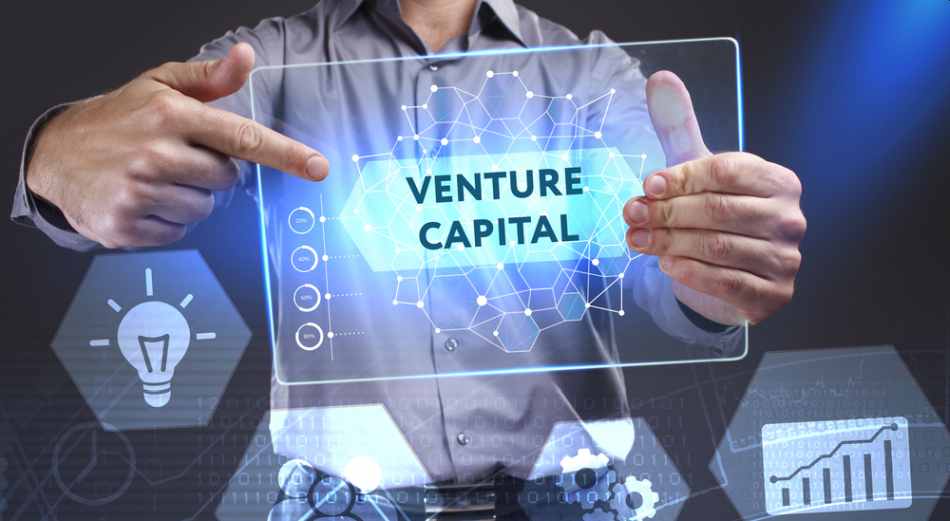 Also read: What is private equity and how does it work?
Top 10 Venture Capital Firms in India
Following are the top 10 venture capital firms in India.
| Venture Capitalists | Top Investments | Deals |
| --- | --- | --- |
| Sequoia Capital | Apple, Google, Oracle, PayPal, LinkedIn, YouTube, Instagram, Yahoo, WhatsApp | 245+ (Till FY20) |
| Accel | Flipkart, Swiggy, Bounce, BookMyShow | 232+ |
| Blume Ventures | Unacademy, HealthAssure, Instamojo, Dunzo | 124+ |
| Elevation Capital | Swiggy, Cleartax, Capital Float, Firstcry, Rivigo | 100+ |
| Tiger Global Management | Flipkart, Moglix, Urban Company, Razorpay, Ninjacart | 97+ |
| Kalaari Capital | Myntra, Snapdeal, Cashkaro, Cure.fit, Milkbasket | 92 |
| Matrix Partners | Stanza Living, Vogo, MoEngage, Avail Finance | 80 |
| Nexus Venture Partners | Unacademy, Zomato, Delhivery, WhiteHat Jr | 80 |
| Indian Angel Network | Little Black Book, Druva, Box8,WebEngage | 80+ |
| Omidyar Network India | Indifi Technologies, Dailyhunt, ZestMoney, WhiteHat Education Technology | 71+ |
Top 10 Venture Capital Firms in India
Sequoia Capital
Founded in 1972, Sequoia Capital is an American venture capital firm in California, USA. Since its incorporation, it has invested in over 1000 companies, including Apple, Google, Github, LinkedIn, Yahoo, WhatsApp, Oracle, etc. Sequoia shortlists 15 to 20 startups in every six months and invests $1 Million to $2 Million with participation from other investors. It has $5.4 billion assets under management in India, spread across seven funds.
Accel
Based out of Palo Alto, California (USA), Accel is a venture capital firm operating funds in India, UK, and China. Accel is currently managing more than $1.6 billion AUM and closed nearly six funds in India. Accel has funded Indian businesses like Flipkart, Swiggy, Blackbuck, Cure.fit, etc. The company focuses on established companies that require larger amounts of capital to expand their operations.
Blume Ventures
Headquartered in Mumbai, India, Blume Ventures is a seed-stage venture fund that aims to increase startup funding in India. The company primarily focuses on tech companies and has invested in Series B to D rounds in Unacademy, Servify, etc. Blume Ventures has nearly $225 Million total capital under management and has backed 150+ startups.
Elevation Capital
Formerly known as SAIF Partners, Elevation Capital is a stage and sector agnostic private equity firm. Headquartered in Gurugram (India), the company makes minor investments in early-stage, seed stage, and developed companies. It has already invested in companies like Paytm, ShareChat, Swiggy, MakeMyTrip, Just Dial, etc.
Tiger Global Management
Tiger Global Management LLC is a venture capital firm that invests in high-quality software, consumer and FinTech companies. Founded in 2001 and headquartered in New York, the company has invested in more than 442 companies across the globe with 7 designated funds. In India, it has invested in more than 97 startups, including Flipkart, Moglix, Urban Company, etc.
Kalaari Capital
Kalaari Capital primarily focuses on tech companies in India and has made more than 92 investments across 3 funds in companies including Myntra, Snapdeal, Jumbotail, Cashkaro, etc. The company has made exit from companies like Myntra and Snapdeal and partial exit from Zivame. Founded in Bangalore in 2006, Kalaari Capital manages $650 Million AUM.
Matrix Partners
A US-based private equity investment firm, Matrix Partners invests in seed and early stage companies in the US and India. Software, communications, semiconductors, data storage, etc. are the primary focus of Matrix Partners. It has invested in MoEngage, Apple Computer, Office Club, etc. Matrix Partners is said to be managing nearly $4 Bn as assets under management (AUM).
Nexus Venture Partners
Nexus Venture Partners is a Silicon Valley and Mumbai based venture capital firm and is the first India-US venture fund. It has helped a list of companies to raise funds, including Zomato, Rapido, Delhivery, WhiteHat Jr., etc. Nexus Venture Partners invests in early-growth stage companies and had more than $1.4 Billion in assets under management as per financial year 2019.
Indian Angel Network
Indian Angel Network (IAN) is a group of Indian angel investors funding startups. Founded in 2006 in Delhi, India, IAN is a SEBI-registered early stage fund with more than 470 investors from 11 countries. The group has invested in companies, including WebEngage, Druva, Box8, Faballey, Little Black Book, etc.
Omidyar Network India
Omidyar Network India is a social impact investment firm that invests in startups that are helping inclusive societies for less privileged individuals. The company was founded in 2004 and has invested over $300 million into the Indian startup ecosystem. Some of its key investments include Dailyhunt, Indifi Technologies, Needslist, Bounce, Platzi, Pratilipi, Healthkart, etc.
Key Features of Venture Capital Investments
High-risk funding
High Tech projects
Participation in Management
Length of Investment
Illiquid Investment
Venture capitalists typically provide funding to early-stage startups despite significant risk associated with the company's future profits and cash flow. They invest in exchange for an equity stake in the business rather than debt.
The Indian Venture Capital market has become a hot investment destination. Investors made 25-30% annual returns in the last 5-6 years by investing in Pre-IPOs. However, it may be risky to invest your hard-earned money without market research and investment guidelines. SBNRI is an online platform exclusively designed to cater investment and transactional needs of NRIs living around the world. The investment experts at SBNRI guide NRIs throughout the investment process.
To ask any question related to NRI investment in India, you can schedule a call by clicking the button below or download SBNRI App from the Google Play Store or App Store. You can also use the SBNRI app for investment in stock market/ mutual funds, Pre-IPO, Asset Finance, Commercial Real Estate, Indian Startups Funds, NRI account opening, etc. To ask any questions, click on the button below. Also, visit our blog and YouTube channel for more details.