Navi Mumbai Office Opportunity I
Navi Mumbai
❮
❯
This is a rare find. Opportunity usually finished within 2-3 Days
Investment & Return
How can an investor exit?
Investors can sell in the secondary market to an existing investor of this property or a new investor. Or at the time of sale of asset.
Taxation
User receives monthly rental payouts and at the time of sale of asset:
Rental payouts are taxed at investor's tax slab in India
Gains at the time of sale of asset are taxed at 10%
Investor Lock-in
6 months, after that investor is free to sell No investor lock-in
Exit Load
1%, if investor sells during 6-12 months since entering into the agreement. No exit load after 12 months
Exact Returns
Rs. 25 Lakh investment at 6% annual asset value appreciation would give a total return of ~Rs. 48.7 Lakh in 6 years (returns before tax and performance fees)
Why Invest
World-Class Grade-A Asset
Seawoods Grand Central is India's largest transit oriented development featuring Grade-A offices, retail space, residencies, and an integrated railway station. Built as per international standards and commands a premium.
Tier-1 Tenant
The tenant is Henkel, a 140 year old German Enterprise with major market share in industrial adhesives, home care & beauty products. Henkel has established its Indian Headquarters in this office space & have made significant investments in the property and is unlikely to leave for the foreseeable future.
Excellent Location
Navi Mumbai is a fast growing office mirco-market thanks to its robust social infrastructure and favorable leasing costs (compared to Mumbai). With a slew of upcoming infrastructure developments, the area has a strong potential for value appreciation.
Overview
This is an opportunity to invest in 35,998 sq.ft. of office space in L&T Seawoods Grand Central, Navi Mumbai. The asset is a world-class commercial property with an integrated mall, residencies, and suburban railway station. The tenant is Henkel, a 140-year old German industrial and consumer company.
With long lease terms, lucrative yields and a strong potential for capital appreciation, the asset is an ideal long-term investment.
Tenancy
Tenant Overview
Henkel is a 140 year old German multinational industrial & consumer goods company. In India, they operate in 2 business areas: adhesive technologies & beauty care. .
HQ:  

Dusseldorf, Germany

Profit:  

$2.7 Billion+ (2021)

Employees:  

52,000 globally
Rental Details
Monthly Rent (₹/sqft)
₹ 90
---
Rent Escalation
15% every 3 years
---
Security Deposit
10 Months
---
Rental Starting From
Immediately
---
Floor Plan
The opportunity is to purchase the level 4 B wing & part of C-wing in Tower-I. The opportunity will span 35,998 sq.ft. + 36 car parks.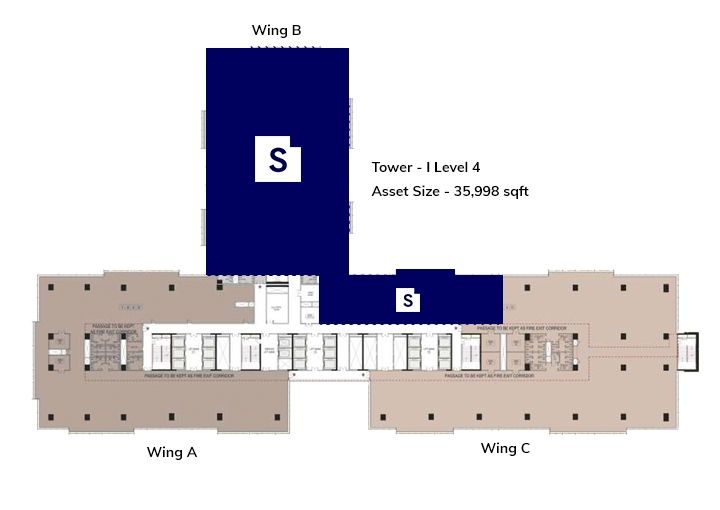 Price
Gross Purchase Price
₹ 43,82,75,650
---
Registration & Stamp duty
₹ 2,74,99,354
---
CIDCO Approval & Other Charges:
₹ 46,32,756
---
Acquisition Fee
₹ 1,53,39,648
---
---
---
Net Purchase Price
₹ 48,90,00,000
---
Location
The asset is located in Seawoods, an upscale part of Navi Mumbai. The property is well connected to the rest of the Mumbai Metropolitan Region by road, rail, and water services. With the upcoming Navi Mumbai airport, metro, and trans-harbour sea link, the area is bound to see greater value appreciation.

Airport
---
Distance from Mumbai International Airport
35 KM
Navi Mumbai International Airport (upcoming)
7 KM