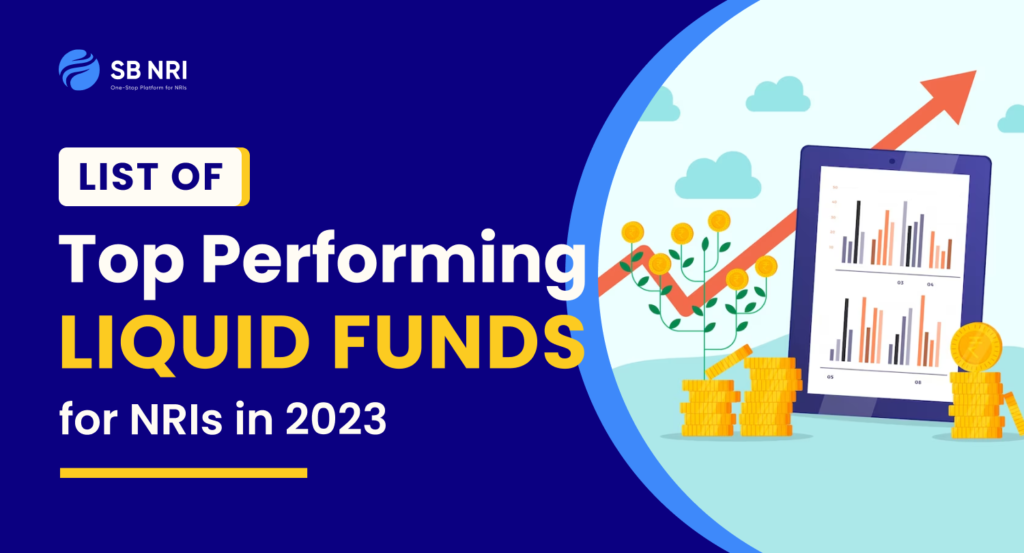 NRIs can invest in the Indian markets in various ways, one of which is the mutual funds. Mutual funds are a prominent investment option that pools funds from investors and invests in other areas like equity, debt, money market instruments, bonds, and more. There are various types of mutual funds for NRIs in the market. Liquid funds are one of those. In this article, we discuss the best liquid funds for NRI 2023, liquid fund returns, top-performing liquid funds in 2023, and the overall take on whether an NRI should invest in liquid funds or not. Read along.
What is a Liquid Fund?
Liquid funds are a type of debt mutual fund that invests in short-term assets like commercial papers, government securities, certificates of deposit, treasury bills, or repos. Liquid funds as is the case with all the mutual fund investments in India are governed by SEBI rules which specify that liquid funds can only invest in debt and money market securities that have a maturity of up to 91 days.
Since the liquid funds are short-term based, the fluctuations aren't much in the prices of the securities that they are invested in and hence provide stable returns when compared to other debt mutual funds.
What are Liquid Assets vs. Liquid Funds?
An investor can invest in various types of assets ranging from mutual funds, stocks, real estate, pre-IPO, and more. These assets can be categorized into long-term assets and liquid assets. Liquid assets are those investments or assets that can be converted into cash in real-time. It includes cash, savings accounts, and short-term investments.
Liquid funds on the other hand are a type of mutual fund that invests in low-risk, short-term debt instruments that provide easy access to cash. Mutual funds are also regarded as a form of liquid funds since the investors can sell their units and get cash within days. Hence, liquid funds can also regarded as liquid assets at times on a general note. However, there are still a few differences therein as we discussed here.
Can NRIs invest in Liquid Funds in India?
Yes, NRIs can invest in liquid funds in India. NRIs can easily invest in different mutual fund schemes and generate higher returns and wealth building. The FEMA Act, RBI rules, and SEBI guidelines govern the rules and regulations regarding NRI investments in mutual funds which is why it has a slightly different procedure than that of resident individuals. However, it is very easy to set up your Mutual Fund KYC and link it to your NRO/NRE bank account to invest in mutual fund schemes in India.
There are various liquid fund schemes available for NRIs to invest in. Keeping in check with the FEMA Act, the funds on offer for NRIs from the US & Canada to NRIs from other countries may vary at times. However, on a generated note, NRIs can easily invest in liquid funds
Also read: Top 5 Tips for NRIs to Pick a Winning Mutual Fund
What are the Best Liquid Funds for NRI
In this section, we look at some of the best liquid funds for NRIs 2023. We have created the list regarding the overall fund performance and also taken note of the expense ratio and other areas. These top liquid funds for NRIs are great options to start your investment.
Also read: Best SIP to Invest in 2023 – Top 10 SIP Mutual Fund Plans for NRIs
Top Performing Liquid Funds for NRIs in 2023
*Returns as on 28-Sep-2023
How to Invest in Liquid Funds as NRI?
NRIs can now download the SBNRI App and choose to invest in different NRI Liquid Fund schemes in India with ease. You can also get detailed mutual fund advice from experts at SBNRI. Also, visit our blog and YouTube channel for more details.
SBNRI is an authorized Mutual Fund Distributor platform & registered with the Association of Mutual Funds in India (AMFI). ARN No. 246671. NRIs willing to invest in mutual funds in India can download the SBNRI App to choose from 2,000+ mutual fund schemes or can connect with the SBNRI wealth team to better understand Mutual Fund investments.
FAQs
Which is a liquid fund?
Liquid fund is a type of debt mutual fund that invests its money in commercial paper, bonds, repo, and money market instruments and has a maximum maturity period of 91 days.
Can NRI invest in liquid funds?
Yes, NRI investors can invest in liquid funds after getting their Mutual Fund KYC done and linked to their NRE/NRO bank account.
Which is the best liquid fund for NRI to invest in 2023 for the highest return?
Aditya Birla Sun Life Liquid Plan Growth for NRI is the best liquid fund for NRI to invest in 2023. It has a return of 6.91% for 1-Year and 4.69% for 3-Year period. 
What is the liquid fund taxation for NRI?
NRIs are liable to pay taxes on the capital gain earned from Liquid funds. The short-term capital gains for sell of liquid funds for a period under 3 years of holding are taxed at investor's slab rates. After the Budget 2023 amendments, long-term capital gains won't enjoy any indexation benefit and will be charged as per the investor's slab rates removing the LTCG benefits altogether.
Are liquid funds safer?
Liquid funds are relatively low-risk investments as the funds are invested in areas like government securities, commercial paper, bonds, repos, and certificates of deposit. These investments are safer and have a maturity period of less than 91 days. Hence they are safer than other forms of mutual fund investments.
Is liquid funds safer than FD?
Liquid funds are low-risk investment options but the returns are dependent on the market conditions and hence cannot be termed fully risk-free in comparison to fixed deposits where the returns are fixed for the investors.
Is it better to invest in liquid funds?
Liquid funds are safer and low-risk investments and also provide liquidity and higher returns than fixed deposits. An investor can park their surplus funds into liquid funds to generate returns.
What is the difference between liquid funds and equity funds?
Liquid funds are funds that are invested in assets like government securities, bonds, commercial papers, repos, and certificates of deposits with a maturity period of less than 91 days. On the other hand, equity funds are invested in equities and stocks of the companies.