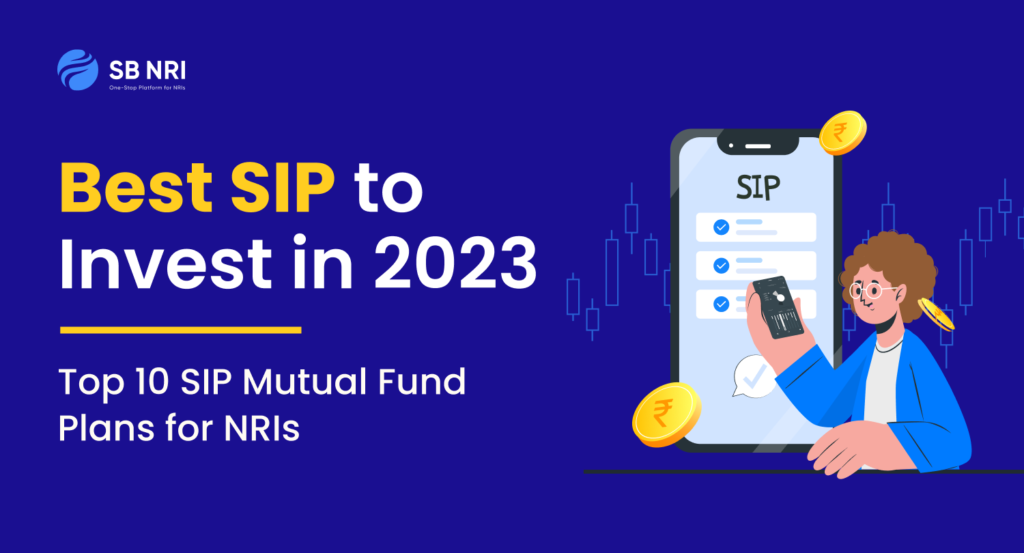 Mutual funds are an investment option that pools funds from many investors and invests in various securities, investment instruments, and more to generate higher returns. It is one of the prime investment choices for NRIs looking to invest in the Indian market as mutual fund allows them to invest, generate returns, and build a sizeable corpus for their financial goal. Mutual fund investment can be made either in a lump sum or a Systematic Investment Plan (SIP). In this article, we talk about the best SIP for NRIs in 2023 to invest in.
What is a Mutual Fund Systematic Investment Plan (SIP)?
Mutual Fund Systematic Investment Plan (SIP) is a form of investment where the investor can choose to invest a fixed amount in the mutual fund scheme in a periodical manner, i.e. weekly, monthly, or quarterly. This is in stark contrast to the lump sum investment where the investor has to invest a large sum of money at once.
Mutual Fund SIP investment allows NRI investors to start their investing journey with a small sum of money and build wealth in the long run. This ease of entry in investment helps bring a higher number of investors into the market and hence is preferred by many residents as well as NRI investors. Furthermore, mutual fund SIPs are very simple and flexible as each month the fixed SIP amount gets debited from your bank account as per the SIP frequency and invested into the mutual fund SIP scheme that you've chosen.
What are the Best SIP Mutual Funds for NRI
Investing in mutual funds as an NRI has a slightly different procedure than that of residents. For that, you need a NRO/NRE account and Mutual Fund KYC to start your SIP investment in Indian mutual funds. Furthermore, there are certain regulations of the FEMA Act that need to be adhered to as an NRI investor in mutual funds. This is a prime reason why NRIs from the US and Canada can only invest in a few mutual fund schemes whereas NRIs from other countries can choose to invest in a variety of mutual fund schemes. To know more about NRI mutual fund investment procedure, steps, and rules, please refer here.
That being said, once your documentation and procedures are done, you can start investing in mutual fund SIPs with ease. There are more than 2000+ mutual fund schemes available for NRIs to choose from where they can invest either in SIP or lump sum as per their preference. We'll look to list the top 10 best mutual fund SIPs for NRIs in the below segment.
Also read:
NRI Mutual Fund KYC in India: The Ultimate Guide 2023
Top 5 Tips for NRIs to Pick a Winning Mutual Fund
Top 10 Best SIP Mutual Funds for NRIs to Invest in 2023
*Market returns as on 27-Sep-2023
Also read:
Investment tools for NRIs to invest in SIP
Majorly there are two tools for any basic NRI investment in India, which are:
An NRI can invest in Mutual Funds In India using the above-mentioned accounts.
Benefits of Investing in the Best SIP Mutual Funds for NRI
1. Can Enter with Small Capital 
Mutual fund is a great investment option to generate high returns and grow your wealth over time. But not every investor can put in the big amount right away in the form of a lump sum payment. This is why SIPs in mutual fund 2023 is a great choice as it allows NRI investors to start investing with even a small capital as low as Rs 100. This will create an investing habit and bodes well for making consistent investments over time.
2. Rupee Cost of Averaging 
With mutual fund SIP in 2023, you can leverage the rupee cost of averaging factor allowing you to time the market right. The concept of rupee cost of averaging works as, when the market falls, you get more units allotted with the same amount of SIP in mutual funds. Similarly, when the prices rise, the purchased units will be lesser. This factor helps in navigating the volatility of the market at times.
3. Flexible in Nature
SIP investment in mutual funds is flexible in nature as it allows you to pick your investment amount, and period of SIP, i.e., weekly, monthly, or quarterly. It also allows you to modify or increase your investment amount in mutual funds. This certain flexibility coupled with other factors like modification and more makes SIP investment for NRIs a flexible pick.
4. Compounding Effect
SIP investments in mutual funds for NRI are meant for long-term investment. The principle of compounding allows you to harness higher returns with a longer tenure and SIPs keep on compounding over the years to deliver higher returns. You'll not only be investing the SIP amount, but the increase in value of the fund will also continue to generate returns making it a sizeable corpus for the future investment goals for NRIs.
5. Build Investing Discipline
Starting a SIP investment as NRI allows you to instill investing discipline into your life. A thing to note is that it's not always about timing the market, but the time spent in the market. SIP mutual funds investment works exactly in this manner allowing you to continue a investing habit over time whilst generating returns and building wealth.
Invest in NRI Mutual Funds with SBNRI
NRIs can now download the SBNRI App and choose to invest in different NRI mutual fund schemes in India with ease. You can also get detailed mutual fund advice from experts at SBNRI. Also, visit our blog and YouTube channel for more details.
SBNRI is an authorized Mutual Fund Distributor platform & registered with the Association of Mutual Funds in India (AMFI). ARN No. 246671. NRIs willing to invest in mutual funds in India can download the SBNRI App to choose from 2,000+ mutual fund schemes or can connect with the SBNRI wealth team to better understand Mutual Fund investments.
FAQs
Which is the safest SIP to invest in?
It is suggested that the safest SIP to invest in are debt mutual funds as they invest in money market instruments, bonds, etc. Hence, the risks associated with these mutual funds are less. You can find different schemes under debt funds like dynamic bond funds, liquid funds, ultra short-term funds, gilt funds, etc.
Can NRI withdraw SIP anytime?
Yes, NRI investors who have invested in SIP mutual funds can withdraw funds anytime. However, for certain cases like ELSS, the funds come with a lock-in period of three years. 
Which is the best SIP for NRI to invest in 2023 for the highest return?
Quant Small Cap Fund Growth for NRI is the best SIP mutual fund scheme for NRI to generate the highest return in 2023. The fund's return is 40.26%  for 1-Year and 46.52% for 3-Year. 
What are the maximum and minimum amounts that an NRI can invest in SIP in 2023?
NRI investors can start SIP mutual fund investment with a minimum amount of Rs 100. However, there is no upper limit on the maximum amount of investment that a NRI can make in SIP. 
Is SIP tax-free for NRI?
No, all SIP investments are not tax-free. Only investments in the Equity Linked Savings Scheme (ELSS) come under the purview of tax benefits up to Rs 1.5 lacs under Section 80 C of the Indian Income Tax Act, 1961. 
Is SIP better than FD for NRI?
SIP performance based on the historical data showcases at least 2x returns than Fixed deposit. Investing in SIP as NRI can help you beat inflation and generate high returns in comparison to the traditional FD/RD scheme.
Which is the best SIP plan for NRI for 5 years?
Below mentioned are some of the best SIP plans for NRI for 5 years: