Managed farmland is one of the alternative asset classes that fall outside the mainstream assets such as stocks, bonds, shares, etc. Growpital is a tech-based online platform which offers attractive tax-free returns ranging from 10-17%. Here is the complete Growpital review as an alternative investment platform for investing in agri project portfolios.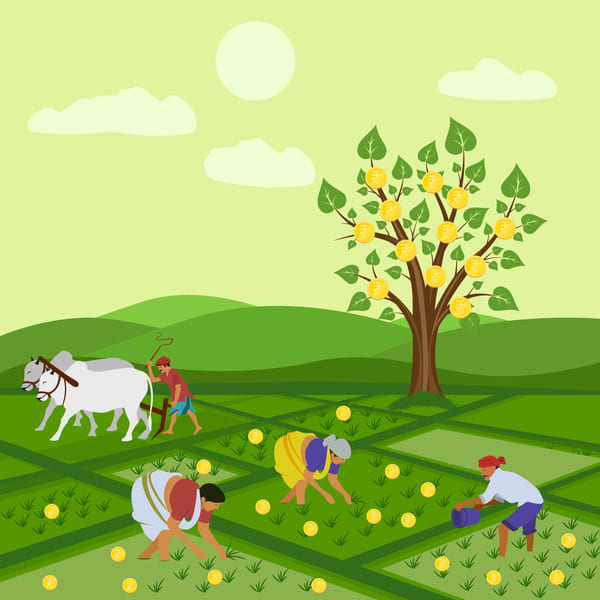 What is Growpital: Growpital Review
Established in 2020, Growpital is an online farmland investing platform that provides investors with an opportunity to diversify their portfolio to an alternative asset class. Growpital was established to democratize farm investment by allowing retail investors to access high profit opportunities which were otherwise reserved only for institutions and high net worth individuals (HNIs).
By investing in managed farmlands through Growpital, you can earn tax-free passive income. The managed farm projects not only allow you to diversify your portfolio but also offer much higher returns than fixed deposits and several bonds.
Growpital manages 2100+ acres of farmland across 5 states in India and has Rs. 20+ crore asset under management (AUM).
Why Growpital?
Agri projects have become popular as an alternative asset class in India in the last few years. Here are top reasons why you should choose Growpital for an agri investment portfolio.
1. Tax-free Income
Growpital provides an opportunity to own agriculture asset classes and earn tax-free fixed returns ranging from 10-17% p.a.
2. Portfolio diversification
Managed farmland is a non-market linked asset i.e. it is different from mainstream assets, like mutual funds, ETFs, stocks and bonds. It is an ideal physical asset for higher returns with lower volatility. Thus, investors can diversify their portfolio and balance out some of their riskier investments.
3. Strong Execution
Growpital has a team of agri professionals who consider multiple underlying factors like soil paper quality, availability of water, connectivity, etc. to finalize the land for production.
4. Source of passive income
As an investor, you can earn 10 – 17% p.a. Fixed returns on investments in an agri project of Growpital. You are not required to work on the project. Growpital takes care of the agricultural land and pays fixed returns on a quarterly basis in the form of interest.
Growpital Review – High Return Projects
Investors can choose from multiple farm projects undertaken by Growpital. Followings are some of the high return projects of Growpital:
Baby Farming
Planty Returns
Harvest Premium
Banyan Tree
| Plan | Investment | ROI | Tenure | Lock-in Period | Payout |
| --- | --- | --- | --- | --- | --- |
| Baby Farming | Rs. 5000/ unit | 10% | 36 months | 12 months | Quarterly |
| Planty Returns | Rs. 20,000/ unit | 12% | 36 months | 12 months | Quarterly |
| Harvest Premium | Rs. 2,00,000/ unit | 16% | 36 months | 12 months | Quarterly |
| Banyan Tree | Rs. 10,00,000/ unit | 17% | 36 months | 12 months | Half yearly |
How to Invest in Managed Farmland with Growpital
Here are 4 simple steps you need to follow to invest in a managed farmland project on Growpital:
Step 1: Create account and complete KYC: Create a Growpital account. Complete your KYC using PAN number, Aadhaar number and bank account details.
Step 2: Choose investment option: Select a plan as per your investment goals and pick up the number of units you want to buy.
Step 3: Start investing: Add money to Growpital wallet and e-sign required documents.
Step 4: Harvest your earnings: The assured return i.e. interest amount will be credited to your bank account on predetermined dates. 
Is there a Growpital App?
There is no app for Growpital. NRIs can invest through Growpital by creating an account on the website of Growpital. Once their account is made, they can access their dashboard by entering email and password.
Growpital Portfolio Partners
Following are the portfolio partners of Growpital:
Zetta Farms
SBNRI
Toshan Seeds
Agro Genie
Farmcult
Eeki Foods
The Perfect Blend
Growpital Competitors and Alternatives
While with Growpital, one can get unique investment opportunities, there are a few companies that also offer agricultural investment solutions for investors in India. Following are some of the Growpital competitors and alternatives:
UPAJ- AI enabled platform for agricultural trade management.
FAAB-Allows users to diversify portfolio with agricultural investments.
Growpital Customer Care
For any questions, suggestions or feedback, you can contact Growpital Team:
Phone Number: +91-7231844488
Email ID:

[email protected]

Address: S-2, V Cube Lavender, Plot 166A,
Vishvesariya Nagar, Gopalpura Bypass,
Jaipur RJ 302018
SBNRI is a portfolio partner of Growpital. You can invest in managed farmland through SBNRI platform or app. Schedule a call to invest in agri projects or know more about the product.
Not only residents but NRI investors can also invest in managed farmland to earn great returns.
You can download SBNRI App to connect with our experts and get end-to-end assistance related to an NRI investment in alternative assets in India and or even to get a full Growpital review.
You can also click on the button below to ask any questions. Visit our blog and YouTube Channel for more details.
FAQs
What is Growpital?
Growpital is a tech-based Agro investment platform that offers tax-free fixed income to investors. It's a new clutter-free, fixed-income platform with ESG benefits.
Who is the founder of Growpital?
Rituraj Sharma is the founder and CEO of Growpital. Other key team members include Krishna Joshi (Co-founder, COO), Sudhir Paswan (CEO – Agriculture Projects), Karan Agrawal (Growth & Operations). 
How does Growpital work?
Growpital pools funds from investors and uses it in farm projects. It develops and manages farm project assets – from crop selection, farm inputs to working with local farmers and improving soil sustainability. Retail investors get fixed payouts every quarter. 
Is the return on investment in managed farmlands fixed or subject to market risk?
The profits that Growpital provides on your investments is fixed. The profits are distributed as advance share to the fractional owners from the revenues generated by the farm projects.
Who are the farmers of Growpital?
Growpital has a dedicated team of experienced farmers, farm managers and experts who have a great understanding of seasonality, soil quality, best food crop to grow, etc. 
Who manages the farm projects?
Farm projects are owned and developed by Growpital itself. Projects are operated in two ways – the in-house team of Growpital is responsible for growing crops and selling them in the market. Growpital has operational partnership with top market players for revenue generation.